KNEA Officers, Delegates, and Committee Members 2019-2020
Executive Committee Members 
Grant Moss, President, 2019-2020 (1-year term)
Erik Mayer, 1st Vice President, 2019-2020 (1 year term)
Randy Winzer, 2nd Vice President (Membership Chair), 2019-2020 (1 year term)
Lori Martin, Secretary, 2019-2021* (2 year term)
Susan Johns-Smith, Treasurer, 2018-2020 (2 year term)
Phil Rudd, Parliamentarian, 2019-2020 (1 year term)
*Constitution indicates elections in odd years
KNEA-RA & Southeast Uniserv Council Delegates
Marjorie Donovan 2019-2020 (1 year term)
Trina Larery 2019-2020 (1 year term)
Browyn Conrad 1st Alternate, 2019-2020 (1 year term)
Susan Carlson 2nd Alternate, 2019-2020 (1 year term)
NEA-RA Delegates
Kyle Thompson 2019-2020 (1 year term)
Bargaining Team 
Tim Thomas,  Lead Negotiator, 2019-2021
Mike Elder, 2019-2021
Dave Lomshek, 2019-2021
Laura Washburn, 2019-2021
Bargaining Council (10 elected, 5 appointed)
Joey Pogue 2019-2021
Browyn Conrad 2019-2021
John Daley 2018-2020
Ronny Galloway 2018-2020
Kent Runyan 2019-2021
Don Judd 2018-2020
Bill Shirley 2018-2020
Myriam Krepps 2018-2020
Grievance Committee (6 members, 3-year term, 2 per year)
Susan Johns-Smith 2019-2022
Browyn Conrad 2019-2022
Laura Washburn 2018-2021
Jamie Wood 2018-2021
Khamis Siam 2018-2021
Marti York  2017-2020
Membership Committee (3 members, 2-year term, even years)
Randy Winzer, Chair 2019-2020
Karen Johnson 2019-2020
Trina Larery 2019-2020
Ronny Galloway 2019-2020
Elections Committee Committee (3 members, 2-year term, even years)
Susan Carlson, Chair, 2019-2021
Alicia Mason-Collins, 2019-2021
Spring 2020
PSU KNEA Executive Committee - March 10, 3:45 p.m. OSC Kansas 3
Happy Hour - March 10, 5:15 p.m. - Drop the H
PSU KNEA Chapter Meeting - CANCELLED:  April 14, 2020, 3:45 p.m. KTC S113
Happy Hour - CANCELLED:  April 14, 5:15 p.m. - The Jolly Fox 
Look for more details on email from the KNEA-Executive Committee!  

PSU-KNEA Documents
PSU-KNEA Constitution
(Revised August 27, 2004; March 31, 2007; August 20, 2014)
 KBOR Documents on Weapons Possession Policies at State Universities in Kansas
Results from PSU KNEA Spring 2018 Faculty Survey
Documentation for Activity Insight


Faculty Governance Links
What Can PSU/KNEA Do for You?
Work for quality education at PSU.
Continue to advocate for faculty rights.
Negotiate for fair employment practices.
Work to ensure academic freedom and other fundamental concepts of the profession.
Bargain for fair rates of compensation.
Bargain for the 'unit' in contract negotiations for all things considered 'conditions of employment'.
Publicly defend and represent the faculty, assisting the 'unit' in grievance issues. We sincerely hope that you will not have need of this service.
Why Join?
It is the professional teacher's organization.
Because you, like KNEA, want quality schools for all ages and levels.
We can also assist with obtaining legal advice and provide an attorney-referral program for non-job related issues.
For all the reasons above and so much more.
Did You Know?
All faculty promotion dollars and contractual travel funds are negotiated by PSU-KNEA.
The negotiation of intellectual property rights was protected in a case argued by PSU-KNEA at the Kansas Supreme Court.
Moving PSU faculty salaries from the lowest in the state system to number 4 is the result of PSU-KNEA bargaining.
A grievance procedure where faculty can make their case to peers is the result of PSU-KNEA bargaining.
Member Benefits
NEA/KNEA Member Benefits provides a wide range of programs that help improve the overall quality of life for members and their families. From affordable insurance and secure investments, to advance technology and convenient, accessible credit, NEA/KNEA Member Benefits programs can help members get significantly more out of life and their hard-earned dollars. Benefits include:
Life Insurance Programs
Health and Disability Insurance Programs
Casualty Insurance
Savings and Investment Programs
Credit Programs
Special Discount Programs
Loan Programs
Member Education Guides
NEA/KNEA Attorney Referral Program
We provide liability insurance protection plus access to specially trained staff and KNEA attorneys should you ever find yourself with job-related legal trouble.
KNEA's Access to Savings Plan offering a variety of discounts and savings opportunities at business across the state and region.
NEA DUES-TAB® Insurance. Provides up to $1,000 of FREE life insurance coverage and up to $5,000 of accidental death and dismemberment coverage to eligible members. All at no cost to the NEA member.
PSU Student Program of KNEA / NEA 
For information on joining the student chapter of PSU KNEA/NEA please contact
Mrs. Debbie Restivo, Faculty Advisor, College of Education,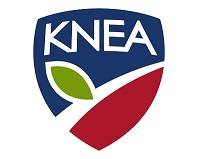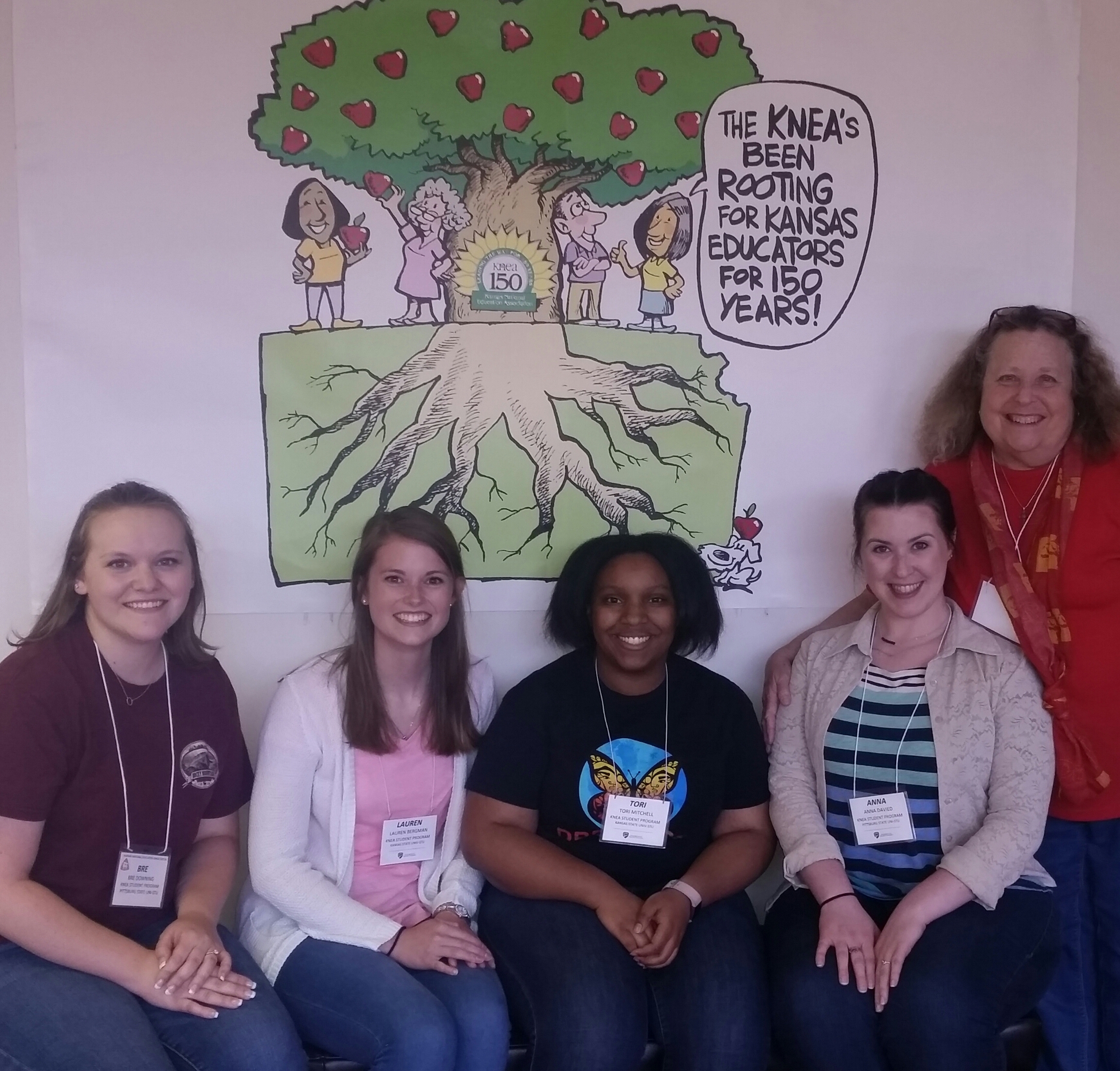 PSU KNEA Student Program participants at
the KNEA Summit 2018 Conference in Topeka, June 2018,
posing in front of a Richard Crowson original.  
From left to right,
Bre Downing, 2018-2019 KNEA SP Chapter President;
Lauren Bergman, KNEA SP President, KSU;
Tori Mitchell, 2017-2018 KNEA SP Chapter President;
Anna Davied, NEA SP Leadership Conference elected representative;
and faculty sponsor Debbie Restivo