The History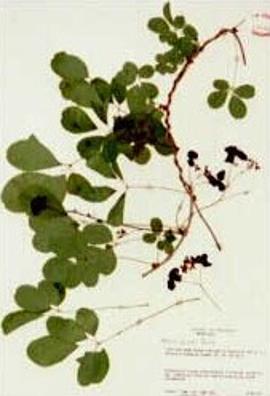 The herbarium at Pittsburg State University was officially established in 1946 by Theodore M. Sperry, its namesake. Starting with some 100 specimens, under Sperry's direction, the herbarium grew from 1946 to 1974 to nearly 40,000 specimens occupying 35 metal herbarium cabinets. Sperry remained in a curatorial position following his retirement. The herbarium was officially named in honor of Dr. Sperry in 1974. Dr. Stephen L. Timme, a bryologist, curated the herbarium from 1989 until his retirement in 2011. In 2013, Dr. Neil Snow was appointed director.
Sperry is known primarily for his work in ecological restoration. He was hired by Aldo Leopold in the 1940s to create restored prairie on farmland near Madison, Wisconsin, as part of a Civil Conservation Corp project. It is now known as the Curtis Prairie after the great plant ecologist J. T. Curtis and managed by the University of Wisconsin. Dr. Sperry also was a founding member of the Nature Conservancy and the Society for Ecological Restoration. The SER recognizes Dr. T. M. Sperry as the "father of ecological restoration" and presents a prestigious yearly award to an organization that has demonstrated an excellent restoration project.
You can read more about the Sperry residence, named Paradocs, at the Sperry Home web site.
The Collections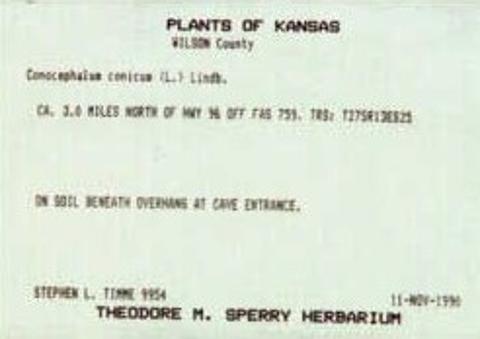 The Sperry Herbarium currently houses approximately 65,000 vascular plants and 6,000 bryophytes, with approximately 10,000 backlogged specimens. The vascular plants emphasize the flora of the Kansas and four-state region but include important specimens from the United States, Australia, Africa (especially the Democratic Republic of the Congo), Madagascar, and the Peruvian Amazon. Bryophytes are well represented, with collections from the southeastern US, the Peruvian Amazon, Costa Rica, and many other areas. Many collections from southeast Kansas are unicates. Data basing and digital imaging of specimens commenced in 2014-2015. The herbarium has 17 isotype specimens (and a few paratypes), including species of Eugenia from Madagascar, other Myrtaceae from New Caledonia and Papua New Guinea, and a few ferns from Peru.
The Facilities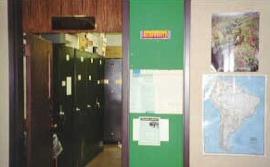 The Sperry Herbarium is located in 301 Heckert-Wells Hall. The herbarium houses computers for data basing, digital imaging; 3 dissecting scopes with nearly new illuminators; the Kansas and Regional Reference Collection; copies of all FNA volumes, Flora of Missouri, Kansas Wildflowers and Weeds, and many other recent and older volumes. The facilities are open during the academic year (August through April) to any qualified user. Herbarium loans are sent out following standard procedures.