Current Use
The Natural History Reserve has a history of use for research, education, and service. An initial aquatic study was published in 1953 by Charles C. Burner and Claude Leist ("A Limnological Study of the College Farm Strip-Mine Lake." Transactions of the Kansas Academy of Science. 56:78-85). Many theses, most recent ones involving fish culture, have been conducted on the site or using the site.
Undergraduate students have also been involved in research or service projects at the NHR. In the spring of 2004, Jamie Horton established a small prairie plot for the purpose of environmental education. The plot remains today, but it has been reestablished at least once.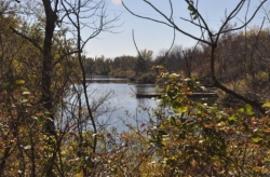 The NHR is also used in undergraduate and graduate education. Upper division and graduate field biology classes use the Reserve for class related field work. In Limnology, the main pit is used for sampling and the lab building as a base for field water quality analysis. In Terrestrial Field Ecology, vegetated areas have been used for quantitative vegetation surveys. In Regional Natural History, the site is used for mammal track and sign collection, bird observation, and plant identification. The NHR is also used by Mammalogy and Ornithology. The site is also used for observations of ecology or raptors in the non-major biology course Environmental Life Science and the mixed-major course General Biology. Over 800 students access the site each year.
The NHR also houses a set of outdoor cages for raptors used in the department's environmental education program, Nature Reach. Biology majors also gain experience (coursework or volunteer) in raptor care.
Many construction and service projects have occurred at the Reserve, mostly involving infrastructure for Nature Reach. Students in the Principles of Conservation course have performed service projects for the site. Outside parties have also contributed to the NHR. Donations or in-kind contributions have been received from several local community groups, businesses, and individuals.
During the summer, nature camps are held for grade school children under the direction of Nature Reach. A teaching garden was developed adjacent to the caretaker's home to be used as part of the camps. In addition, a picnic/teaching area was established at the south end of the education/lab building. 
Natural History Reserve Images

| | | |
| --- | --- | --- |
| | | |
| | | |