The Department of Art at Pittsburg State University, provides students who have an interest in art, a strong foundation in creative critical thinking and design, that prepares them in a multitude of professional careers in studio, applied arts and art education. The BFA also is considered fundamental preparation for graduate degrees in the studio arts and art history.
To prepare students, the PSU Art Department offers Bachelor of Fine Arts degrees with a Major in Art in a variety of emphases:
2D Studio Art
3D Studio Art
Illustration and Visual Storytelling
We also offer:
Bachelor of Fine Arts Degree with an Emphasis in Education - This emphasis is designed for those interested in profes­sional preparation for teaching art. The program meets the State of Kansas art teacher certification requirements for elementary and secondary levels (K-12) of public instruction. Basic art studio, history, and pedagogy courses make up one of the three components of the degree. The other two components consist of a required group of general education courses and a required group of professional education courses.
Minor Offered in Art:
Minor in Art (Non-Teacher Certification Minor) - Those seeking aesthetic or art historical knowledge, visual thinking and/or technical art skills to complement or expand their major courses of study should choose a minor in art.
Minor in Commercial Art - Programs such as graphic and imaging technology, communication, family and consumer science, technical education, and public relations will find a commercial art a useful compliment.
We are pleased that you are interested in pursuing a career in an art related field and that you are interested in applying for a scholarship from Pittsburg State University.
The Department of Art offers several art programs that may be appropriate to your goals. To be eligible to be you need to complete the PSU On-Line Scholarship application by February 1st of each year. Many of our scholarships are based on financial need as well as academic achievement. Financial need is determined by the results of the Free Application of Federal Student Aid (FAFSA). To be considered for need based scholarships you must complete the scholarship application by February 1st and file the FAFSA by March 1st of each year.
In addition to the online scholarship application, students applying for Department of Art scholarships must also provide the following to the Department of Art Office by the February 1st deadline.
10 photographs (Slides, CD, DVD)
Resume or Vita
Students must be a full time art major for the entire academic year (fall and spring semester). Professional semester enrollment does not qualify. Donor acknowledgements are required before disbursement of scholarship funds.
If you have any questions about art degree programs, career opportunities, or any further questions about applying for scholarships, please contact the Department of Art.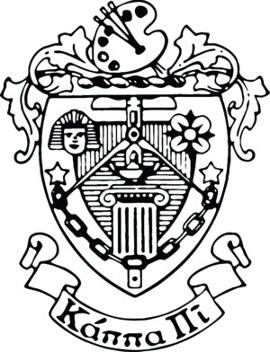 Founded In 1911 at the University of Kentucky, Kappa Pi is the Oldest Honorary Art Fraternity. The Pittsburg State University Chapter began in spring 2017.
PSU Chapter Advisors
Dr. Li-Lin Tseng
Professor S. Portico Bowman
Faculty Initiates
Jamie Oliver
Janet Lewis
Student Initiates
Brianna Gillis (President)
Lauryn Hastert (Vice President)
Mattie Parrigon (Treasurer)
Levi Qualls
Will Cowley
Josh Kukowski
Christopher Griffetts
Sarah Walden
Susan Covert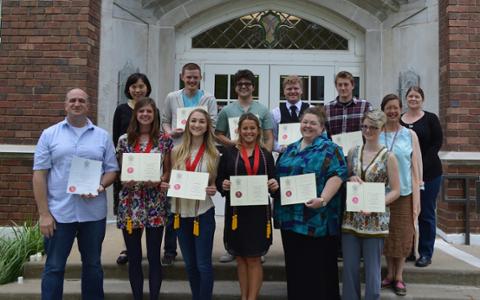 The Department of Art is located in Pittsburg State University's Porter Hall, a three-story building originally built in 1927 as the university's library. This complex of spacious studios, galleries, and classrooms affords students an environment for significant artistic learning opportunities for the study of ceramics, printmaking, jewelry design, weaving, sculpture, drawing, painting, photography, art history, and art education. Porter Hall also contains two gallery spaces on the main floor, the Harry Krug and University galleries, which feature rotating exhibits of work by national and international professional artists. The Art Connectors gallery on the second floor features community-based arts projects. Artists whose work is exhibited in the gallery spaces travel to campus to give lectures or workshops and interact with our students to provide them with deeper insight and understanding of the art world.