Art majors and fifth graders join forces for community project
  Wednesday, April 10, 2019 9:00 AM
  Giving Back, Academics, Arts & Entertainment, News
Pittsburg, KS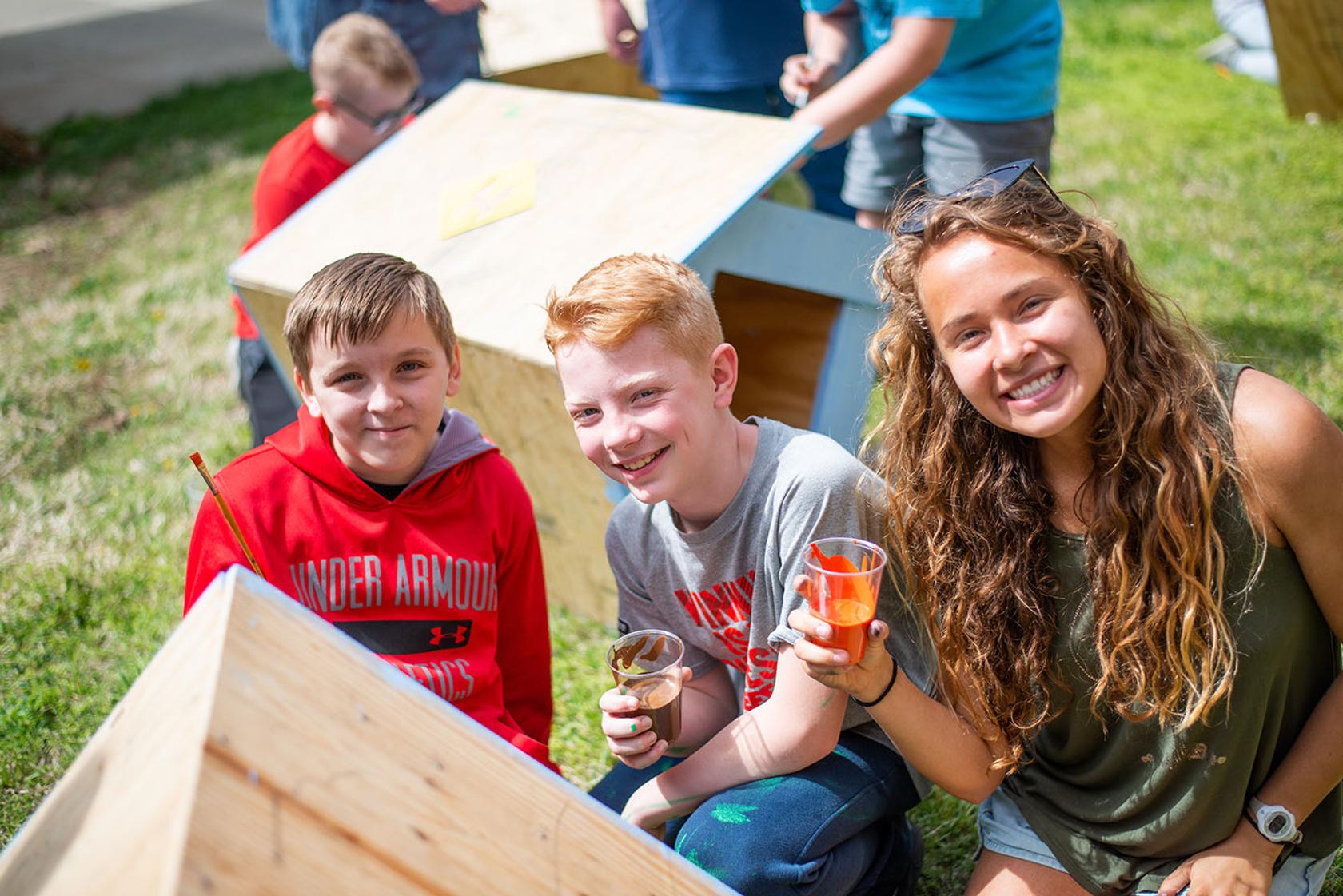 Shawnee, Kansas native Sada Kernodle chose Pittsburg State University for the opportunities she would have with nationally-award winning track and cross-country teams and Coach Russ Jewett. She just wasn't sure about a career path. 
But when, as an undeclared freshman, she met Art Department faculty, she knew she had found her academic home and her future. 
"I loved it so much — the people and the program," said Kernodle, now an art major. "I didn't realize I would do this as a career until I spoke with them, and they encouraged me to pursue my childhood passion." 
This month, she had the chance to pay it forward to fifth graders from Lakeside Elementary. 
"It's cool to show kids that adults can do art and be creative, too — it's not just an elementary thing," she said. "It's a lifelong thing." 
Kernodle was one of several PSU art students who worked with the Lakesiders to design and paint full-size plywood doghouses, which teachers Hailey Bugni, Matt Burford, and Bridget Walker had helped the students measure and assemble. 
When finished, the houses will be auctioned off at the upcoming Pittsburg ArtWalk and proceeds will be donated to the SEK Humane Society. 
On Monday in the sunshine, the elementary and university students spread out on the school lawn with their paint, doghouses, and supplies, to happily continue their work.  
Joining them was Art Department Chair Jamie Oliver, an accomplished artist who frequently exhibits in New York City galleries, but who took equal delight in working side-by-side with fifth graders to add colorful stripes to the plywood. 
The project, said Principal Rhonda White, was meant to teach applied math skills; in previous years, students have used small pieces of foam to build scale model table-top doghouses. But this year's project came with bonuses. 
"The experience has been so much more enriched through our partnership with PSU art students and Jamie Oliver, who are bringing in the design aspect, the technique, of art," White said. "They're also great role models for our students, who see what it's like to be in the arena of college. And to be able to work together to create a project that ultimately will benefit our community is also wonderful." 
Fifth grader Quorynn Harris, who grew up watching her mother, Leslie Harris, paint larger-than-life sculptures for SEK Art Fest that were then auctioned, said she was excited that the doghouses they were creating would be purchased by someone. 
"And the money will help a good cause," she said. "It's just a great project all the way around." 
Pittsburg ArtWalk will be held from 5 to 9 p.m. on April 26 in Downtown Pittsburg. 
Learn more about PSU's Department of Art at https://www.pittstate.edu/art/index.html