The Gorilla Walk 
The Gorilla Walk is Pittsburg State's most anticipated and emotional football GameDay tradition. Approximately 80 minutes prior to kickoff, fans begin to gather along the pathway between the athletic complex and Carnie Smith Stadium in anticipation of the team's arrival. Led by Gus Gorilla, players and coaches are greeted by fans, young and old alike, as they walk to their locker room inside the stadium. Even veteran Gorilla football fans say they get goose bumps from watching youngsters in over-sized Pitt State football jerseys reach up to get high-fives from their favorite football players.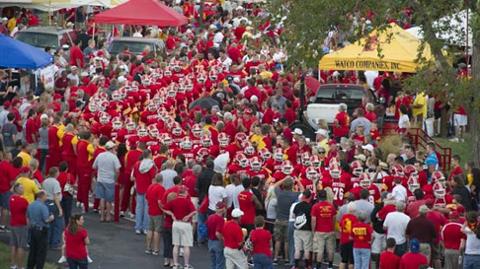 Plan your next event at Gorilla Village
The beauty and convenience of Gorilla Village make it the perfect location to visit or host your event. It offers two Gorilla Halls (shelter houses), a large gazebo and convenient parking. Although its primary purpose is to serve the needs of the university, it is also available for use by the community.
Space is limited and reservations must be made well in advance.
Please contact the Jack H. Overman Student Center at 620.235.4791 to inquire about availability.
Champions Plaza at Pittsburg State University
A tribute to Gorilla fans, alumni and student-athletes
Unveiled in October of 2014, the plaza was designed to honor the passion that Pittsburg State students and alumni feel for their university while, at the same time, celebrate the achievements of the university's athletic teams. Learn more...