Community celebrates completion of Block22:   'A once-in-a-lifetime kind of thing' 
  Monday, September 16, 2019 8:00 PM
  News, Alumni, Milestones
Pittsburg, KS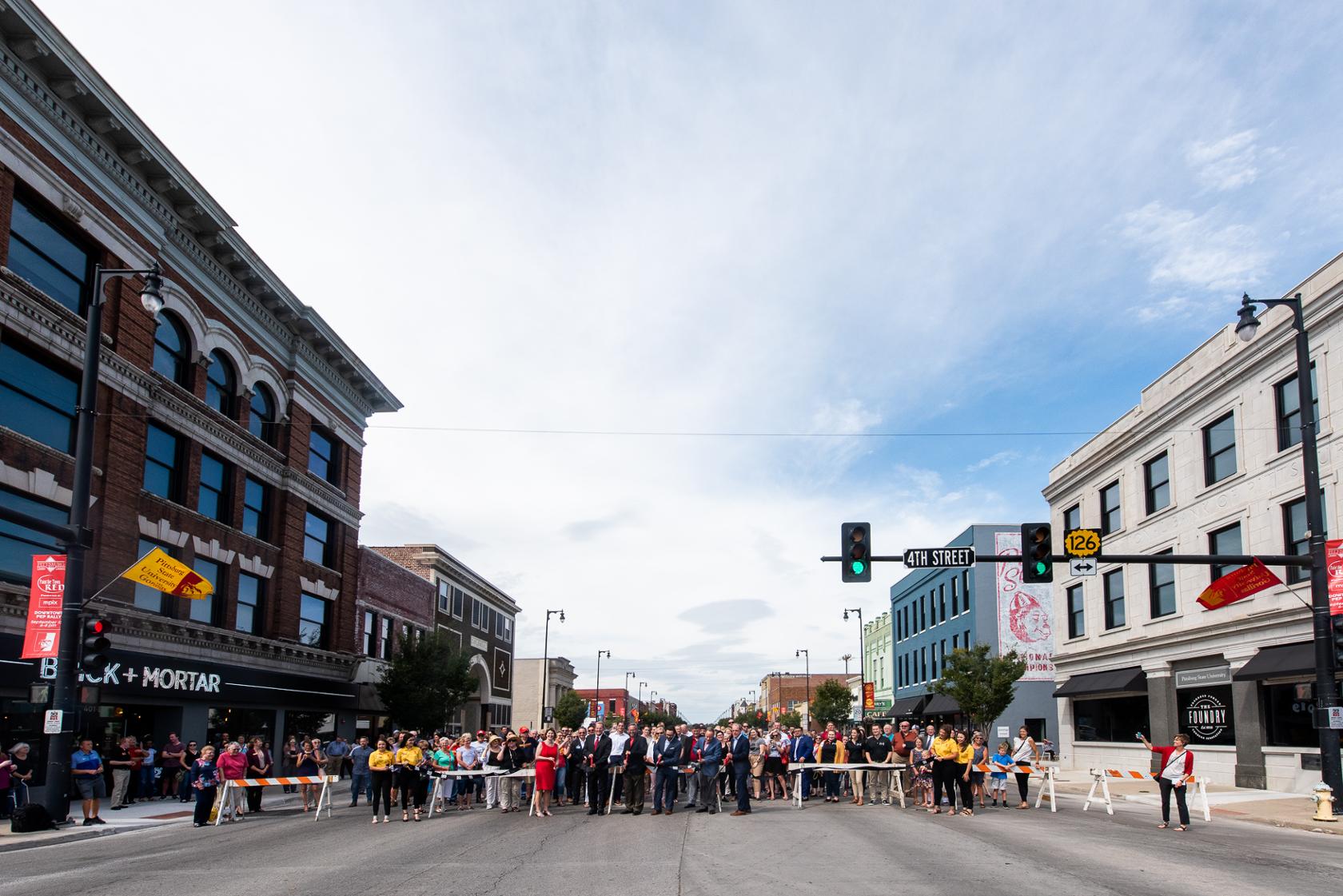 A decade ago, the future of Pittsburg's arterial intersection, Fourth and Broadway — and by extension, the rest of Downtown Pittsburg — was uncertain. 
"We asked, 'How do we get enough money to knock these buildings down?'," said City Manager Daron Hall, referring to the northeast corner where a vacant and dilapidated National Bank Building stood.  
Doing so would have cost $4 million. The Colonial Fox Theatre Foundation, based out of the Colonial Fox Theatre under renovation across the street, purchased the historic building to save it from the wrecking ball.  
"But now what?" everyone asked. 
Fast forward a few years and the future is no longer uncertain, the intersection no longer dilapidated. It's humming with activity, new businesses have opened, Pittsburg State University students live and work there. 
On Sept. 12, a ribbon cutting and celebration marked the milestone. 
As part of that celebration, panel discussions held at the Colonial Fox Theatre highlighted Block22's positive and far-reaching impact. A crowd of several hundred gathered in the street to cut a ribbon, and tours were offered of the project. It includes student apartments, four restaurants (TOAST, Brick+Mortar, Juicy's, and Root Coffeehouse and Creperie), The Foundry (LimeLight Marketing, DevSquared, Votive, Creative124, the Small Business Development Center, and Helianthus Ventures), Sonder & Company, and Pitsco Makerspace.  
Inspiration 
Inspiration for the project struck in the form of a partnership. 
The City of Pittsburg and Pittsburg State first partnered in 1914 when Russ Hall burned down and the city raised $100,000 in 36 hours to rebuild. The two entities have since partnered in many ways, including in 2015 to open the Robert W. Plaster Center on campus. In just four years, the state-of-the-art facility already has hosted national track and field championships and numerous PSU Athletics and community events and has generated millions of dollars of economic impact in the region. 
"We're saying, 'We believe in this town, and we want it to prosper'...We want it to be vital for our students, our employees," said PSU President Steve Scott. 
The Vecino Group, headed up by Mat Burton, a Pittsburg native who graduated from St. Mary's-Colgan and PSU, was the third partner. 
"It was a chance to work with people who wanted to accomplish something big," he said.  
It was a risk. They questioned themselves and their vision. But ultimately, the partners decided to invest approximately $18 million to restore and renovate historic Commerce, Baxter, National Bank and Opera House Hotel buildings on the Northeast and Northwest corners.  
Now, they say, they know they made the right call. 
Impact 
In August 2018, about 99 students moved into their new housing units located upstairs in the National Bank and Commerce buildings, and the apartments have remained full ever since.  
Among them: Kailey Pearson, a Wichita resident accustomed to city life, who was the first in line to rent a student apartment. She said her experience there inspired her to open Sonder & Co. with a classmate, the first student-run business in Block22, and call Pittsburg "home." 
Brandee Johnson, owner of LimeLight Marketing in Block22's Foundry, said her business is thriving because of the networking and collision she's able to do with other businesses in the Foundry and in Downtown Pittsburg. 
Travis Lester, a restauranteur from California and PSU alumnus, said the project inspired him to return to Pittsburg to open Brick+Mortar and Juicy's in Block22. 
Within a few blocks of Block22, other new businesses also have opened, including Miners + Monroe, Main Street Axe Company, and the Frisco Event Center. Several others, including The Jolly Fox Brewery, Drop the H Brewery, and a family fun center, are under construction and set to open soon. Owners have cited Block22 as playing a role in their motivation to set up shop in the area. 
PSU Chief Strategy Officer Shawn Naccarato, who took the lead on the project and emceed the celebration event, described the project as "a once-in-a-century kind of thing that has occurred in Pittsburg, Kansas." 
"The truth is, at the end of the day, the most important thing to me of the project is hope...people with hope live differently," Naccarato said. "This is an area of our country and our state that's had too little hope for too long... For Southeast Kansas, for the region, for every rural small-town piece of America that thinks they can't go anywhere but down, we're showing that's not the case." 
Learn more about Block22.