Student Organizations
The Campus Activities Center is home to over 150 registered student organizations, and we can help you find your fit!
If you have any questions about getting involved or our registered student organizations, please contact the Campus Activities Center at (620) 235-4795, visit us in the Student Center, or e-mail campusactivities@pittstate.edu.
Student Organization List - To view all student organizations, please check Gorilla Engage.
Student Organization Registration - To register your student organization, please visit https://pittstate.campuslabs.com/engage/register
If you have any questions about student organization registration, please contact the Campus Activities Center at campusactivities@pittstate.edu or (620) 235-4795.
Campus and Student Life
As a Pitt State student, your studies are your number one priority, but even the best students don't study all the time. When it's time to give the books a rest, what's there to do?
PSU Event Calendar
Check out events happening at PSU!
ROTC Gorilla Dash
Gorilla Dash is a 5K obstacle course at the PSU Baja course. The course consists of 30 or more obstacles to navigate in order to complete the course. All proceeds benefit the SFC Forrest Robertson Memorial Scholarship. Anyone up for a challenge is encouraged to participate in this event! See Gorilla Dash photos in the Photo and Video Galleries under Cadet Life.
Military Appreciation Football Game
Events that happen before the game include rope bridge, face painting, national guard activities, t-shirt sales, and much more.
Military Appreciation Football Game Images

| | |
| --- | --- |
| | |
| | |
FLRC Lanes for the athletic teams
The Gorilla Battalion cadets take part in a FLRC each semester at the Greenbush Education Center located just west of Girard, KS. During this event, cadets are assigned to squads and then provided a mission to complete. By using their leadership and teamwork skills, cadets are able to accomplish their mission and overcome obstacles that may be present.
Great Gorilla Games
Promoting STEM-oriented curriculum, collaboration, teamwork, and the practical application of STEM concepts to "real world" scenarios and problems.
Color Guard
A time honored tradition at PSU, gorilla battalion cadets present the colors (United States and Kansas State Flag) at ceremonial events, including home football games and local parades. Color Guard training demands precision and coordination from participating cadets, which enhance their drill and ceremony skills. The Gorilla Battalion Color Guard is in high demand by groups and communities in and around the Pittsburg area due to the exceptional performance by its members.
Cannon Crew
This elite group displays the Army's strength through firepower and, sometimes push-ups, at PSU home football games. After each Pitt State touchdown, the 75mm cannon is fired and push-ups are conducted according to how many points have been scored. Wimps need not apply because this group's motto is "Only the Strong Survive".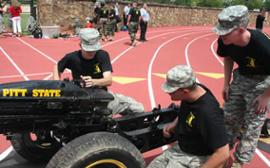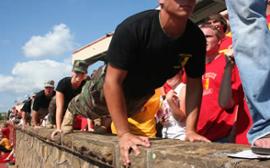 Specialized skills are part of every U.S. Army job. If you have a particular aptitude for science, technology, engineering, or mathematics, some Army careers and jobs will put your analytical thinking and problem-solving abilities to the test. As an officer in the most technologically advanced military in the world, the STEM field offers experiences and skills with special applications for the Army and beyond.
Student Recreation Center
Student Recreation Center Image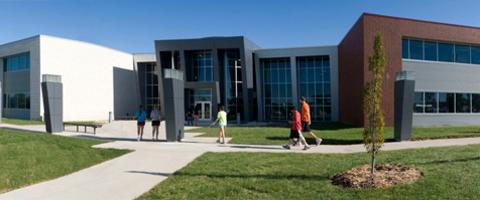 The 97,000-square-foot facility is home to two PSU academic departments - the Department of Health, Human Performance, and Recreation and the Department of Military Science - as well as the 772nd Engineer Company and Detachment 1 and 226th Engineer Company, both units of the Kansas National Guard's 891st Engineer Battalion. The building also houses the student fitness center featuring multipurpose basketball courts, a cardio/fitness center, an aerobics dance studio, fitness labs, locker rooms, and classrooms. (SRC Website)
---
Rappel Tower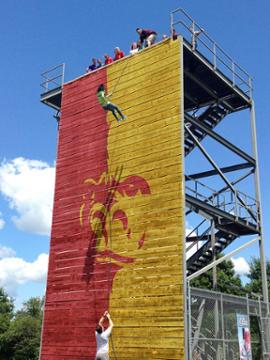 The 40 feet rappel tower was an $80,000 gift to the university by a group of donors, including the Ivan Crossland, Sr. family. Dedicated as the Ivan Crossland, Sr., Rappel Tower, the structure will help ROTC students as they train their bodies and minds for their impending careers in the military.
---
Robert W. Plaster Center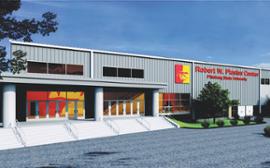 The Robert W. Plaster Center at Pittsburg State University is a state of the art facility that hosts a variety of university and community events. The $13 million, 154,000-square-foot facility, includes a 100-yard turf field, an 11,000-square-foot modern strength facility, a 300-meter track, and seating for up to 1,500. It also includes locker rooms for men's and women's track and field and football teams, offices, and meeting rooms. (Plaster Center Website)
Robert W. Plaster Center Images
ProMaxima Strength & Conditioning Center
Event Center & Harvey Dean Track
---
Brandenburg Field/Carnie Smith Stadium "The Pitt"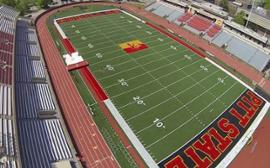 Pittsburg State University plays its home football games at Brandenburg Field/Carnie Smith Stadium, widely recognized as one of the finest venues in NCAA Division II. Affectionately referred to as both "The Pitt" and "The Jungle" by Gorilla players and fans, Brandenburg Field/Carnie Smith Stadium provides one of the strongest home field advantages in college football.
---
Garfield Weede Building

Recreational facilities include the Garfield Weede Building, equipped with basketball and racquetball courts, indoor track, and swimming pool.
Weede Activity Rooms

| | |
| --- | --- |
| | |