If you're considering an undergraduate nursing degree, enrolling in Army ROTC can enhance your leadership and critical thinking skills while providing financial support to help make your professional goals a reality.
Being a nurse in the Army provides you with benefits not found in the civilian world. As an Army nurse and officer, you will have the respect of your peers and coworkers, as well as opportunities to train and serve in a variety of specialties.
ROTC has 4 guaranteed nursing slots available each year.
Learn more about the ROTC Nursing Program on ArmyROTC.com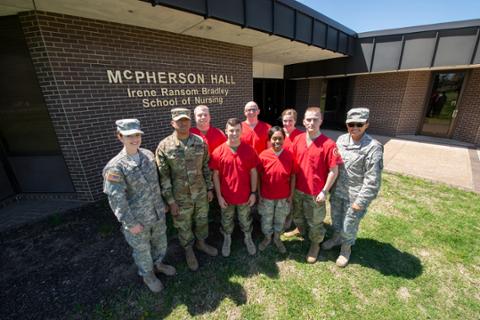 Pittsburg State Army ROTC has been deemed a Cadet Command Nursing Center of Excellence; we are the only school in Kansas to be named as such! 
Pittsburg State was given this honor due to the achievements of nurses that we have commissioned and the outstanding faculty and staff in the Irene Ransom Bradley School of Nursing. The Nursing Center of Excellence designation gives priority of nursing scholarships from U.S. Army Cadet Command in our region to Pittsburg State ROTC. Additionally, we are allotted two guaranteed seats in the upper-division nursing program each year, showcasing the outstanding relationship that our department has with the Irene Ransom Bradley School of Nursing. If you want to compete for a three or four year nursing scholarship, Pittsburg State is the place to do it!
Pitt State ROTC has a yearly mission to commission nurses into active duty, the National Guard, and the Army Reserves. ROTC gives nursing majors the unique opportunity to gain valuable experience in environments normal students would never encounter. With real world experience you may not find in nursing school alone, nursing students who are also Army ROTC cadets benefit from extensive one-on-one mentoring and training. You'll find out exactly what it takes to become a leader in the medical field.
Irene Ransom Bradley School of Nursing - https://nursing.pittstate.edu/
Army ROTC Nursing - http://www.goarmy.com/rotc/courses-and-colleges/programs/nursing.html 
Army Nurse Corps - https://medcoe.army.mil/amedd-army-nurse-corps
Nursing Center of Excellence Designation Presentation Program (video)
Army ROTC students who receive an Army ROTC scholarship or enter the Army ROTC Advanced Course must agree to complete a period of service with the Army.
You can serve full time in the Army for three years (four years for scholarship winners).
Selected cadets may choose to serve part time in the U.S. Army Reserve or Army National Guard while pursuing a civilian career.
It's an experience like no other, and your leadership skills will be challenged every day. Contact the Department of Military Science for more specific details on the Army ROTC service commitment.
Enrolling in the Army ROTC Basic Course does NOT involve a commitment of service to the Army unless you have received an Army ROTC scholarship.
 Army Reference
Army ROTC Reference 
Research and Training References
Forms, Regulations, and Publications
Anti-Discrimination Policies
Leadership Benefits Last a Lifetime
Army ROTC is one of the nation's top leadership programs with a wide range of benefits. Through Army ROTC you can:
Receive help with your college tuition with an Army ROTC scholarship
Gain experience you cannot find anywhere else
Gain the respect of your peers and future employers
Train to become a leader and manager
In Army ROTC, you will learn to become a leader—not just a person who gives orders but a person who leads by example. Being an officer in the U.S. Army means you're a counselor, a strategist, and a motivator. It's similar to being a vital manager in a corporation. As an officer, you will lead other soldiers in all situations and adjust to environments that are always changing. You'll be driven to achieve success with your team on every mission.
Learn more about Becoming an Officer
Skills Development
The specific skills you receive in Army ROTC will include items like leadership development, military skills, and adventure training. This will take place both in the classroom and in the field, but you will have a normal daily schedule like all college students. Army ROTC has two phases: Basic Course and Advanced Course.
Army ROTC Scholarships/Financial 
Whether you're a college bound high school student or already attending a college or university, Army ROTC has scholarships available. Scholarships are awarded based on students' merits and grades.
At Pittsburg State University, scholarships pay for books, tuition, and fees. All cadets, regardless of whether they are on federal or Kansas National Guard scholarships, are non-deployable which means they cannot be called to serve overseas while in college.
The online scholarship application can be found at:
http://www.goarmy.com/rotc/high-school-students/four-year-scholarship.html
Note: Two-, three-, and four-year scholarship options are based on the time remaining to complete your degree. The scholarships awarded at Pittsburg State University are listed below:
Kansas National Guard Scholarship (4, 3, and 2 years)
Kansas National Guard Scholarships are available on a competitive basis to Kansas residents. The National Guard Scholarship pays tuition up to 8 semesters. During your junior year, you will receive an additional $450 stipend, and during your senior year, you will receive a $500 stipend. Once contracted you will participate in the Simultaneous Membership Program (SMP), similar to an officer internship, with a local Kansas National Guard unit for the duration of your college career.
Be a resident of Kansas
Commission prior to age 35
Have a high school or college GPA of at least 2.50
Pass a medical examination 
Pass the Army Physical Fitness Test
Demonstrate leadership potential
Agree to accept a commission and serve in the Kansas Army National Guard
Four-Year Federal Scholarship
The College Four-Year Scholarship is for college freshmen in their first year of a five-year undergraduate plan. Contact the Department of Military Science for more information. To qualify, you must:
Be a U.S. citizen
Commission prior to age 31
Have a high school GPA of at least 2.50
Have a high school diploma or equivalent
Pass a medical examination
Pass the Army Physical Fitness Test
Agree to accept a commission and serve in the U.S. Army on Active Duty
Three-Year/Two-Year Federal Scholarship
The three-year scholarship is available for students already enrolled in a college or university with three academic years remaining.
Be a U.S. citizen
Commission prior to age 31
Have a College GPA of at least 2.5
Have a high school diploma or equivalent
Pass a medical examination
Pass the Army Physical Fitness Test
Agree to accept a commission and serve in the U.S. Army on Active Duty
Green to Gold Scholarship
The Army ROTC Green to Gold Scholarship Program provides selected enlisted soldiers on active duty an opportunity to complete their baccalaureate degree and obtain a commission through participation in ROTC.
Living Expenses
Army ROTC scholarships also provide monthly living allowances for each school year. You can earn certain amounts depending on your level in the Army ROTC curriculum.
1st year = $300 per month

2nd year = $350 per month

3rd year = $450 per month

4th year =$500 per month
The allowance is also available to all non-scholarship cadets enrolled in the Army ROTC Advanced Course (third or fourth year).
For further information about ROTC Scholarships, visit the Army ROTC website.
For more information about Army ROTC scholarships or to complete an application, please contact Josh Shay by e-mail or phone at (620) 235-4898.
Military Science is a minor that ANY STUDENT in ANY MAJOR can take.
Our freshman and sophomore level courses are available to all students and taking them does not require any commitment to military service. It is an opportunity to explore what military science is and how our program can help you meet your personal and career goals.  
Students who complete at least 24 hours in military science fulfill the requirement for a minor with any baccalaureate degree. Students not desiring a minor in military science may apply up to 10 hours of military science credit to general electives towards a degree.
This program is designed to provide the student with an in-depth understanding of the Army leadership doctrine and the fundamental principles by which Army leaders act to accomplish missions. This minor lays out a leadership framework that allows students to apply leadership concepts learned in the classroom. Additional emphasis is placed on character development, oral and written communication, physical and mental fitness, and military small unit operations.

Military Science Program Information
Bottom Line Up Front: To be a leader in the U.S Army isn't for the faint of heart. To earn the title of a Second Lieutenant, it requires a unique individual that is disciplined, physically and mentally tough, and willing to sacrifice his or her time and effort for the success and well-being of a team. As an Army ROTC cadet, you will constantly be challenged to lead peers, make difficult and critical decisions under pressure, and lead by example. The opportunities within the Gorilla Battalion are unlimited and can open the doors to adventure and personal discovery. 
Army ROTC is not like any other organization on campus. Training takes place both in the classroom environment and in the field, plus you will have a normal daily schedule like all college students. The Army ROTC curriculum is comprised of two phases: Basic Course and Advance Course. In order to commission as an officer in the U.S. Army, each phase must be completed.
Army ROTC Basic Course
The Basic Course normally takes place during the first two years of college as elective courses. It involves taking one elective class or participating in lab each semester. Each day in Army ROTC is a learning experience and opportunity. Throughout the semester, you will learn basic military skills, customs and courtesies, and the fundamentals of leadership, all key training areas that will lay the groundwork to becoming an Army officer. If you are unsure of joining the military, the Army ROTC Basic Course can be taken as an introductory course with no military commitment.
Freshman Year (MS1): The Role Of The Army
Army History and Introductions
Army Customs and Courtesies
Branch Orientation and Functions of the Army
Military Operations and Tactics
Sophomore Year (MS2): The Role Of An Officer and Platoon Leadership
Roles and Duty Descriptions of Officers and Non-Commissioned Officers (NCOs)
Communications and Land Navigation
Military Code of Conduct
First Aid Training
Principles of War and Rules of Engagement (ROE)
Military Operations and Tactics
Lateral Entry (ROTC entrance as a junior)
Cadets take part in Cadet Initial Entry Training (CIET) when they enter Army ROTC their junior year. This course—made up of four phases—allows cadets to "catch up" to those who joined during freshman or sophomore years. The first phase introduces cadets to the Army and prepares them for the next three phases, consisting of team building, leadership development, and leadership training exercises. Students who are selected to attend CIET will travel and spend 21-28 days at Ft. Knox, Kentucky. If you are a sophomore at PSU and interested in this outstanding opportunity to develop and challenge yourself, please contact the Department of Military Science to see if you qualify.
Advanced Course and Cadet Leaders Course (CLC)
The Advanced Course takes place during the last two years of college (junior and senior years) as elective courses. However, in order to enroll in these elective courses, students must commit to serve as officers in the U.S. Army. This step requires a cadet to sign contracting paperwork in order to continue with the program. After completion of the junior year and the advance course, students will attend Cadet Leaders Course training at Ft. Knox, Kentucky. CLC is a five week training event where students will learn patrolling, platoon base operations, writing and receiving operations orders (OPORDS), and apply the knowledge from previous training in order to shape them into well-rounded leaders. Most of all, students will gain valuable experience in team organization, critical thinking, and decision-making.
Junior Year (MS3): Small Unit Training
Command and Staff Functions
Law of War
Weapons Professional Marksmanship Instruction (PMI)
Human Behavior
Math Reasoning and Critical Thinking
Cadet Leaders Course Preparation
Military Operations and Tactics
Senior Year (MS4): Transition To Becoming An Officer
Uniform Code of Military Justice (UMCJ)
Mission Analysis
Army Logistics
Post and Installation Support
Military Operations and Tactics
Army Writing Style