Polymers are materials built of large molecules which are composed of one or more types of building blocks which repeat many times along their structure. Polymer molecules can have very different shapes. They can be in a chain, like a string of pearls. They can be branched like trees, bushes, or tumbleweeds. They can be cross-linked in various ways.
Polymers can be natural or synthetic, and it is not exaggeration that they represent some of the most important components of our planet. For example, the Earth's crust is made of rocks that are composed mostly of silicates which are three-dimensional highly cross-linked polymers of silicon and oxygen
Another group, biologically essential polymers include items such as cellulosic, lignin, polysaccharides, proteins and nucleic acids. The first three of these are fundamental for plants and their growth, while the last three enable life processes and transfer of hereditary and evolutionary information in animals and humans.
Probably the best, and certainly the most sophisticated examples of what polymers can create stare right back at us when we look into mirrors, human beings. The hair, nails, and connecting tissue of animals like ourselves are all made up of structural proteins, which are polymers. The enzymes that catalyze the most important chemical reactions in our bodies that enable our metabolic cycles and life processes are such proteins. DNA and RNA, which encode, transmit, and express genetic information and decipher who we are and where we come from, are polymers of nucleotides.
There is the third major group of polymers, the man-made, synthetic polymers. The study of which has created one of the fastest growing scientific disciplines of our times, polymer science. Its role is to understand fundamental relationships between polymer structures and their properties.
The Italian Nobel laureate Giulio Natta, Italian chemist and Nobel Prize winner, said:  "A chemist setting out to build a giant molecule is in the same position as an architect designing a building. [From this] there have come discoveries of new ways to put the building blocks together – discoveries which promise a great harvest of new materials that have never existed on the Earth."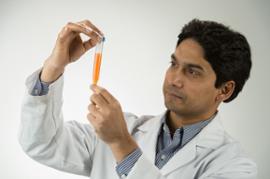 It is already quite clear that the second half of the 20th century and also the foreseeable future can rightfully be named the "Age of Polymers." Polymers have clearly marked our civilization, our technology, our culture, and our everyday lives. Synthetic polymers come in many different types: including plastics and rubbers; oils, paints, fibers and coatings; films, sheets, membranes and various 3D objects. Polymers play key roles in numerous fields of human activities: from biomedical, agricultural, and veterinary uses to space and ocean exploration; from construction to clothing; from food and water production to energy harvesting and transportation; from arts and entertainment to informatics; from transportation to sports and recreation; from defense to environmental protection.
Because of this, it is not surprising that polymer industries are among the largest employers in chemistry and materials, and that there are high tech, high value jobs for science majors available in the field. In fact, the American Chemical Society's Division of Polymer Chemistry projects that at least 50% of all chemists will at some point in their careers work with polymers or use some knowledge obtained from polymer science.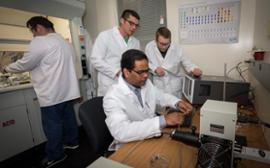 Polymer Chemistry at PSU offers Bachelor of Science and Master of Science degrees. It is housed within the Department of Chemistry of the College of Arts and Sciences, but because of its interdisciplinary nature it also connects with the Plastics Engineering Program in the College of Technology and Kansas Polymer Research Institute at the Tyler Research Center. It consists of two main components: coursework and hands-on research experience in selected areas of polymer science.
The core of the coursework focuses on three main pillars of polymer science: Polymer Chemistry, Polymer Physical Chemistry and Properties, and Polymer Rheology and Processing. In addition, the students also get to select—in consultation with their faculty advisors—elective courses from some of the cutting edge areas of contemporary polymer science in which PSU faculty perform active research: Biopolymers and Polymers for Biomedical Applications, Nanotechnology, Polymers for Electrical and Electronic Applications, Inorganic Polymers, such as Silicon-Containing Polymers, Polymers from Renewable Resources, Polymers for Energy Production, Polymers for Water Protection and Purification, Polymer Manufacturing and Processing, Architecturally Unusual Polymers, Polyurethanes and Polymers from Natural Resources.
Complementary to coursework, the students will also have the unique opportunity to perform individual research projects and assignments under the guidance of selected PSU faculty in any of these areas. Generally, this hands-on research will consist of a thesis, selected research project, research colloquium, and/or preparation and defense of a research proposal.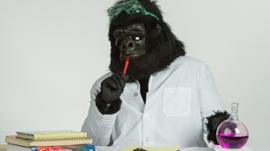 PSU is uniquely situated to offer this new degree program in polymer chemistry because it can synergistically combine intellectual power and material resources of its three main units: the Department of Chemistry in the College of Arts and Sciences, the Plastics Engineering Technology Program in the College of Technology, and the Kansas Polymer Research Center, a professional research institution.
Since there are no other polymer science programs in the broader region, the PSU program and its graduates can be expected to have a very promising future in either industry or academia.
The Polymer Chemistry program is coordinated by Dr. Petar R. Dvornic, Professor of Polymer Chemistry, and involves Dr. Ram Gupta, Dr. Santimukul Santra and Dr. Jeanne Norton as core faculty, with Dr. Charles Neef and Mr. Paul Herring offering elective courses as support faculty. Various other PSU faculty will also provide foundational coursework as needed, including faculty from departments of physics and biology. All core faculty have terminal degrees and significant academic accomplishments (external funding, industry experience, publications, professional presentations, technical reports, etc.).
Associate Faculty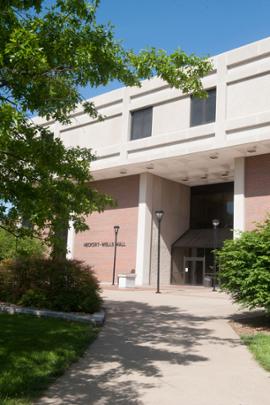 The program is housed in state-of-art classrooms and laboratories in the Department of Chemistry, the Plastics Engineering Technology program, and Kansas Polymer Research Center.
The classrooms are equipped with all necessary visual and demonstration aids for successful lecturing while wet-labs are equipped with bench and hood space, vacuum and gas lines, refrigeration, ovens, heating and steering units, safety equipment, glassware and hardware necessary for synthetic and characterization work.
Specialized equipment and instrumentation available to students for research work includes:  
FT-IR, NMR,  UV-Vis and Atomic Absorption Spectroscopy, Flourometer, Polarimeter, High-Pressure Liquid Chromatography, Gel-Permeation Chromatography, Powder X-Ray Diffraction, Scanning Electron Microscopy, Differential Scanning Calorimetry, Dynamic Mechanical Analysis, Thermomechanical Analysis, Thermogravimetric Analysis, Dielectric Thermal Analysis, Ultra Pyconmeter, Viscometer/Rheometer, Brookfield Viscometer, Melt Index Tester, Semiconducting Characterization System, Potentiostat for Polymerization Electrospinning of Nanofibers, Twin Screw and Single Screw Extruders, Thermoformer, Rotational, Injection and Blow Molders, Drop Impact Tester, Arc Trac Tester, Drop Dart Tester, Charpy Impact Tester, Instron Universal Testing Machine, Color Measuring Equipment, Moisture Analyzer, Accelerated Weathering Tester, as well as various granulators, mills, driers, feeders, rollers, presses, etc.
Support Facilities:
Academic services at PSU, including advising, audiovisual and academic computing resources, and initiatives offered through the Student Success Center (such as The Writing Center) support this program. Access to financial support for faculty and student travel and internal grant and scholarship funding opportunities are also available. An outstanding support for both hardware and software technology needs, as well as information and communication resources are also available. Library and information material, including electronic subscriptions to the most relevant journals and databases in polymer science, are available through Axe Library.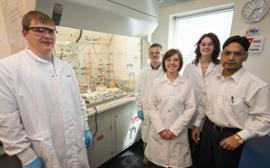 The Bachelor of Science Degree program in Polymer Chemistry at PSU is primarily meant for students finishing high school and wanting to pursue sciences and engineering. Students should have strong preference for hands-on experimentation and creative thinking and an affinity to design new compositions and materials' properties. This program will enable students to work closely with highly experienced faculty on an individual basis or in small groups and will prepare them for high skill, high creativity jobs in either industry or research organizations. It will also prepare them for successful applications to graduate degres, such as master's or doctorate degrees.
The Master of Science Degree program in Polymer Chemistry at PSU is primarily meant as a continuation of the PSU undergraduate Polymer Chemistry program, but it is also open for those who graduate from other universities in Kansas, the United States, and around the world with degrees in sciences, including chemistry, physics, biology, engineering, and/or materials technologies. Students entering this program and career field should prepare themselves with a strong record and coursework in science and/or engineering and should have either career interests in polymer-related companies or a desire to pursue the highest academic degrees at institutions offering a doctorate in polymer science and engineering in the U.S. or abroad.