Outstanding Alumni Award winner: first-gen college student becomes senior writer for Hallmark 
  Monday, October 21, 2019 12:00 PM
  Academics, Milestones, People and Society, Alumni, News
Pittsburg, KS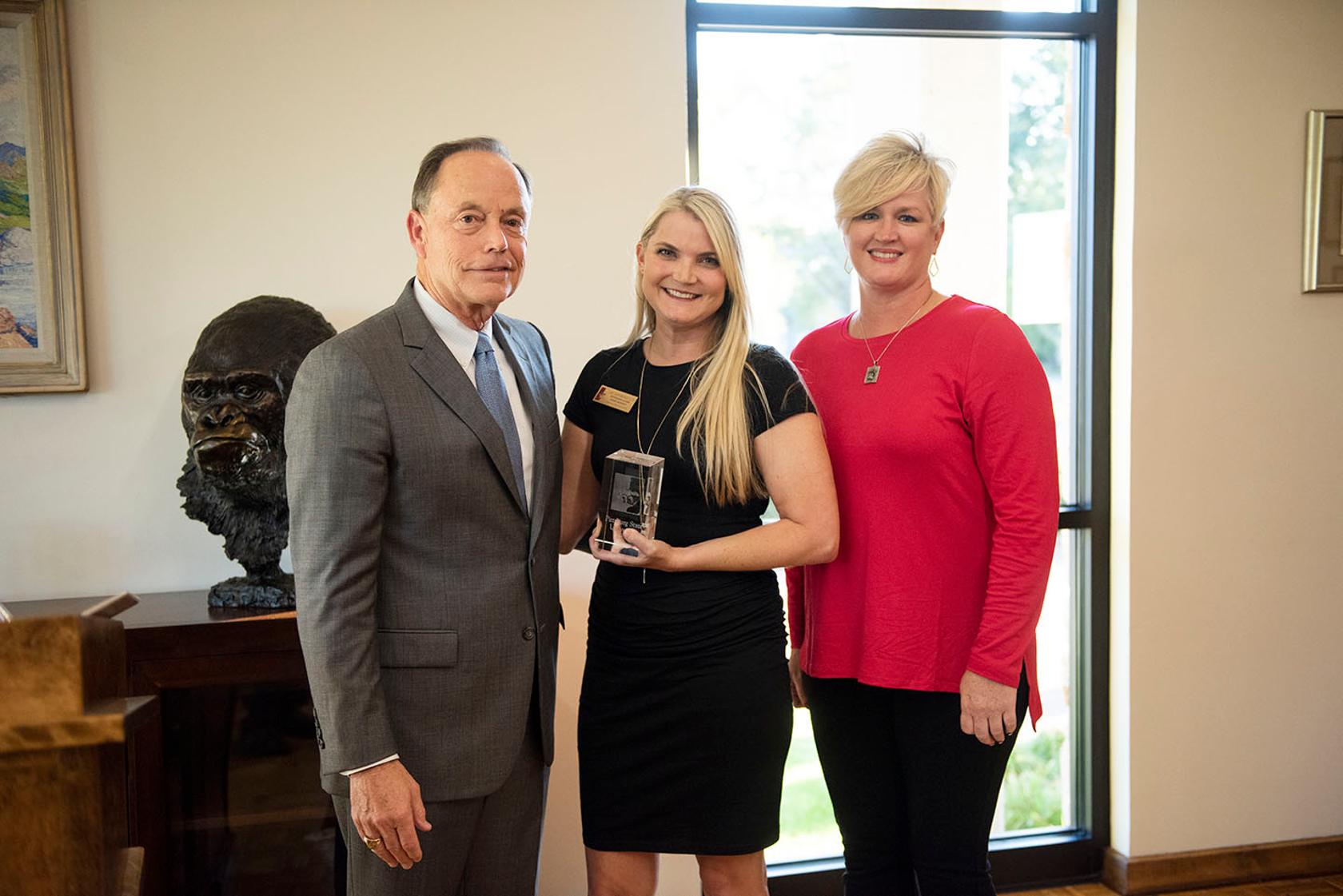 When Amy Trowbridge-Yates was growing up, she lived in a low-income area of Kansas City where the drop-out rate is high, there's a high percentage of children on free and reduced lunch, and only 17 percent of high school graduates went on to earn a college degree. 
But there was also a place called Kaleidoscope — a free, brightly-colored place for all children to go and be creative, given to them as a gift by the founder of Hallmark, J.C. Hall. 
"I have vivid memories of visiting it in Crown Center with my school," Trowbridge-Yates said. "I loved it. I loved Hallmark. I always dreamed of doing something creative as a job." 
Her dream came true: today she works for Hallmark as a senior writer, finding just the right words to help people express their sentiments for every occasion, from silly to sad, in not just greeting cards, but also in Hallmark pillows, plaques, books, and more. 
She was chosen as one of four recipients of the 2019 Dr. Kenneth K. Bateman Outstanding Alumni Award, an award that will be presented in a ceremony on Oct. 18 as part of PSU Homecoming festivities. Other recipients included Matt Frankenbery, Kimberly Young, and Rebecca Light.
"I knew two things when I came to college: I wanted to be a creative writer, and I wanted to return to Kansas City after college," said Trowbridge-Yates, a first-generation college student who picked Pittsburg State University for three reasons: her sister attended PSU, tuition was low, and it was close to home but not too close. 
She took out loans, earned scholarships, and set her sights on her goal. 
On campus, Trowbridge-Yates found activities, faculty, and experiences that would help propel her toward her career: She was a Student Ambassador, editor of the Cow Creek Review literary magazine, held leadership positions in Alpha Sigma Alpha sorority, and worked as a university operator. 
Her advisor, Laura Lee Washburn — herself a published writer and poet — was "strict on me in the best possible way," she said. "I still stay in touch with her." 
Trowbridge-Yates also met her husband, Kevin Yates, on campus; he, too, earned a degree at PSU in 2001, and earned an MBA from PSU in 2005. 
 In May, she'll celebrate 15 years with Hallmark as one of 22 creative writers, and last year was featured on ABC News for her work with the company. She loves her job and her hometown, but she's excited to return to Pittsburg for Homecoming, she said. 
"I loved Pittsburg as a student and still love it — I am really proud of what's been happening there in recent years with culture and diversity," she said. "It's become very vibrant — it has more of a Lawrence vibe — and I'm happy my step-brother is a freshman there now." 
She's proud, too, to have been named an Outstanding Alumni. 
"But honestly, I don't even know how I was chosen," she said. 
Trowbridge-Yates was recognized at a reception and awards ceremony on Friday, Oct. 18, at the Wilkinson Alumni Center.