Outstanding Alumni Award winner: Business risk pays off for Light and for Pittsburg 
  Monday, October 21, 2019 10:00 AM
  Alumni, People and Society, News, Milestones, Academics
Pittsburg, KS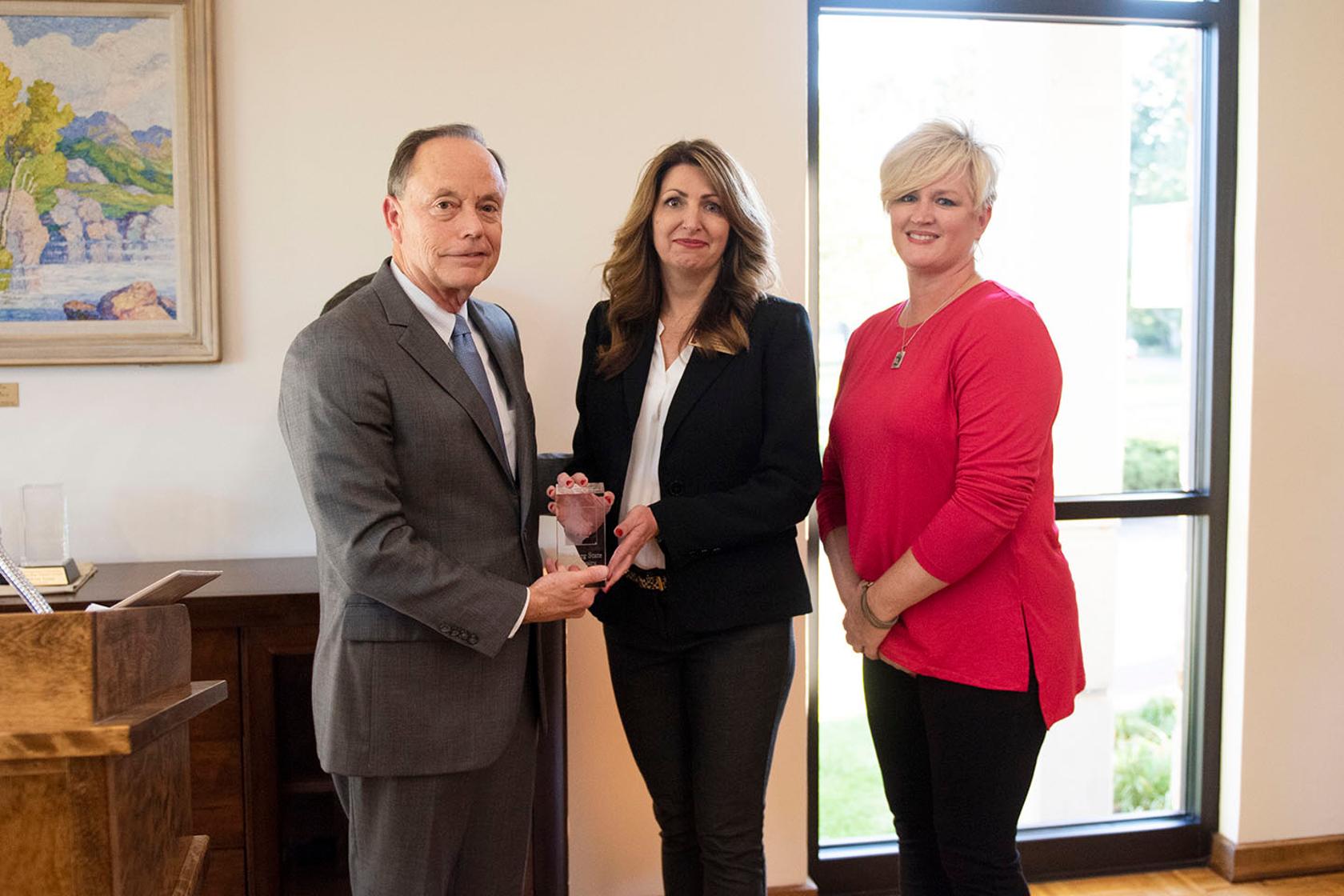 A big risk for Rebecca Light in an unintended career field panned out not just for her, but for Pittsburg: a 1993 (BBA) and 1994 (MBA) graduate of Pittsburg State University, she put her degrees to work by opening SilverCreek Medical Reimbursement Solutions — a business that now employs 90 and has clients across the U.S. 
Light was chosen as one of four recipients of the 2019 Dr. Kenneth K. Bateman Outstanding Alumni Award, an award that will be presented in a ceremony on Oct. 18 as part of PSU Homecoming festivities. Other recipients included Matt Frankenbery, Kimberly Young, and Amy Trowbridge-Yates.
Light grew up in Pittsburg where both sides of her family had a history of entrepreneurism. Her grandfather started the first gas station in Pittsburg, her family owned the VanTassel truck line for 50-plus years, and her grandmother owned a grocery store on West Fourth Street. 
At age 12, she set her sights on becoming a computer programmer, having fallen in love with the new Commodore 64. 
By the time she got to college, however, she had chosen finance as her major. 
"I wanted to do investments — I'm a nerd at heart who watched CNBC and I just fell in love with that course of study," she said. "I'm a numbers person." 
She recalls two faculty members in particular who helped lay the groundwork for her career with instruction in statistics, negotiating contracts, forensic accounting, and business law: Mary Kay Wachter and Chris Fogliasso, both of whom still teach in Kelce College of Business. 
Light, who married her high school sweetheart, decided to immediately begin work on her master's while he job-searched in Kansas City, thinking it would come in handy when they eventually moved. 
But they soon decided to stay in their hometown, as it had everything they wanted. 
Light wondered what she'd do with an MBA in finance in Pittsburg, Kansas. 
"Little did I know, I'd use it to open my own business," she said. 
But that would come later; first, she gained experience as the coordinator of financial services and a compliance officer at Via Christi Hospital, then assumed the newly created position of revenue cycle director where she managed multiple departments in the finance division. Eventually, she would take on the job of contract negotiations between local providers and insurance companies and would find herself with 90 employees in four departments. 
"The health care landscape was changing, systems were centralizing, I had two children, and I decided the time was right to make a change," she said. "It was a big risk, but my family has had businesses for generations." 
She started SilverCreek to help local physicians and work hours that were flexible for her family.  
"I thought I'd have maybe 10 clients, five employees, and I'd be good," she said. 
Today, she has 35 employees in Pittsburg, 35 in Overland Park, and 20 contract employees. 
"We do coding, credentialing, and we're working on robotics development on the software side to do automation billing and revenue cycles collection," she said. "We're looking at acquisition of another billing company in another year." 
In 2016, Silver Creek was named Small Business of the Year by the Pittsburg Area Chamber of Commerce, and in 2017, the Chamber named her a Woman of Distinction. 
But still, she said, she was "quite shocked and very flattered" to be named an Outstanding Alumni Award recipient. 
"I thought, 'surely there are people who deserve this more than me?'," she said. 
She's very proud to be a Gorilla, one of many in her family: her brother, husband, mother, two aunts, three of her grandparents, and her great-grandfather (who played football in 1912!) are PSU alumni, and has stayed connected by attending athletic events and concerts and plays at the Bicknell Family Center for the Arts. 
Now, her son Mitchell is carrying on the tradition: a 2018 graduate of Pittsburg High School, he's pursuing a degree in plastics engineering technology. 
Light was recognized at a reception and awards ceremony on Friday, Oct. 18, at the Wilkinson Alumni Center.