As a child, Christina Williams loved decorating and redecorating her room: throw pillows, aesthetic vignettes, the whole nine yards.
She also brought projects to life with LEGOs, including three-story buildings with furniture inside. 
And she drew floor plans. Lots of them. 
"I was always trying to improve on my own family's home, then coffeeshops, then churches," she said. "At the time, it was all imaginary." 
Then came her senior year in college: Williams, an interior design major in the Pittsburg State University School of Construction, was tasked with an individual project. 
"I chose an empty lot in downtown Pittsburg, on Broadway, and asked myself what could be built there? What would it look like? It would be a new commercial structure, but definitely had to fit in to the historic look," she said. "It really got the wheels turning in my mind about possibilities." 
Interior Design 
Now, she is celebrating completing an actual project for a real commercial structure in downtown Pittsburg, and when the ribbon is cut at 11 a.m. on Aug. 10, she will celebrate a bit more: she was responsible for the interior design for LimeLight Marketing's new home at 111 N. Broadway. 
Williams, who earned her degree from the School of Construction in 2006, is employed by Corner Greer Architects as a project manager and designer.  
In that role, she has completed a project for The Jolly Fox brewery, built in 2019 at 301 S. Broadway, and recently began renovations to historic Pittsburg Community Middle School at 1310 N. Broadway. 
The LimeLight project was special: she collaborated with two other Gorillas: LimeLight owner Brandee Johnson (BBA '01), and Dane Arck, who attended PSU's Kelce College of Business. He opened Arck Construction in 2018. 
The three wanted to keep the historic character of the building, but also wanted it to reflect the agency's modern approach.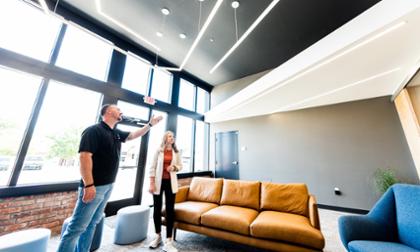 "It is clean, modern, and on brand, with lots of angles that mirror the logo," Williams said. "There are flexible zones for collaboration and individual work; casual, comfortable gathering spaces with soft seating; places for remote workers to come in and land; and places to pull a stool up to a marker board.  
There are also "phone booths," or tiny rooms for private conversations, zoom calls, or phone calls. 
"I'm proud of the finished product," Williams said. "When you hear that you have provided a space that really works for a client, it is so rewarding. And for it to go from being in your mind to being right there in front of you — it is neat to see." 
Construction 
Arck's business has been bringing several historic buildings back to life across the area: his team of six recently completed a makeover to the Pittsburg Area Chamber of Commerce building at Fourth and Pine streets. 
For LimeLight and Balloon Media, which occupies the second floor and is owned by PSU graduate Brett Dalton (BA '06 MA '17), Arck's firm tore out an old staircase, installed a new one, shored up brick walls, renovated the façade, and more. 
"It's great to see the finished product," Arck said. "There was a lot to it, but everyone is enjoying it now that they've moved in, and that's our goal."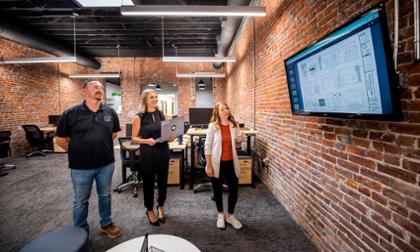 His firm also completed a historic building remodel in downtown Frontenac that will be home to Granny's Ice Cream Shop, and an extreme makeover to its headquarters at 812 N. Broadway.  
Now, his firm is working on a renovation to a building at 816 N. Broadway that in the 1920s was home to the Jefferson Café, a few decades ago was home to The Jean Scene, and most recently was home to The Doggie Bag. 
"It feels great to be a part of what's happening here," Arck said. "For years, it was everything was moving out of downtown. Now, everything is coming back. These buildings are unique. It is hard to replicate in a new building — the character, the vibe, and people supporting one another to make it happen." 
His son, Brody, will be the next to enter the construction business: he is majoring in construction management at PSU. 
"We're very fortunate to have what we have here in Pittsburg," he said. "The university provides a top-notch education, top-notch athletics – it's a whole package." 
---
Learn more about PSU's Interior Design program. 
Learn more about PSU's School of Construction.