About Raul A. Munguia
Dr. Raul Munguia is Director of Orchestras and the violin/viola professor at Pittsburg State University
where leads the Graduate Orchestral Conducting Program, teaches applied High Strings,  Chamber Music, and String Tech courses. Dr. Munguia is a thriving conductor, chamber musician, and orchestral musician who received his Doctoral of Musical Arts in Orchestral Conducting from Texas Tech University. Dr. Munguia holds a Masters in Music from Northwestern State University of Louisiana with emphasis in orchestral conducting and violin performance and a Bachelor of Music from the University of Southern Mississippi.
A strong advocate of music education, Dr. Munguia has served as a clinician, guest conductor, and coach for several District and Honor orchestras in Missouri, Texas, Kansas, Mississippi, Louisiana, and Honduras. Besides his responsibilities at Pitt State and his newly appointment as Music Director and Conductor of the Iola Area Symphony in Iola, KS, Dr. Munguia enjoys an active guest conducting schedule working with orchestras in his native country of Honduras, El Salvador, Chile, & Brazil. Dr. Munguia is also the founder of the first Orchestral Conducting Workshop of Honduras hosting its first edition in January of 2019. At PSU, he also hosts the Pitt State International Conducting Workshop every other year bringing aspiring student conductors from Latin America.
A passionate proponent for the chamber music genre, Dr. Munguia launched in 2019 his chamber
ensemble "Duo Capriccioso" with flutist Denissa Rivas exploring Latin American Repertoire as well as
nearly four centuries of rare works and continue to commission new works. Dr. Munguia also founded
the Pittsburg Music Festival held annually every summer in the city of Pittsburg, Kansas bringing many
local, regional, and nationally renowned artists.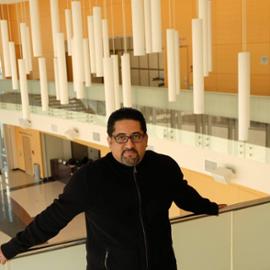 Dr. Munguia serves as the Principal Violist of the Arkansas Philharmonic Orchestra, section-violin of the Fort Smith Symphony, and the Symphony Orchestra of Northwest Arkansas. Along with his active orchestral career, his latest commitments as a soloist include the Honduras Philharmonic Orchestra, the Paraguay Symphony Orchestra, the Natchitoches-Northwestern Symphony, the San Pedro Sula Symphony, among others. He has performed in numerous recitals in the US as well as in Latin America collaborating with artists exploring newly composed works from Latin American composers.
Dr. Munguia is the Music Director and Conductor of the Southeast Kansas Symphony at Pittsburg State University and the PSU Chamber Orchestra. With the assistance of a wonderful group of students, faculty, board members, and a great community, Dr. Munguia has brought the symphony to new heights. His collaborations with established artists such as Mark O'Connor, Jeri Sager, Terri Mike Jeffrey, and many local and regional artists, Dr. Munguia has transformed the orchestra in the last seven seasons taking it out of the classroom to a more recognizable regional ensemble performing in the SEK region, Missouri, and Oklahoma.
Education
D.M.A., Texas tech University, Texas, U.S.A.

M.M., Northwestern Sate University, Louisianan, U.S.A.

B.M., University of Southern Mississippi, Mississippi, U.S.A.

Performance diploma Victoriano López Music Conservatory