Growing up in Nebraska, Pitt State President Dan Shipp and his family talked a lot about the landmark case Brown vs. The Board of Education and what it meant to communities.
On Wednesday as he pedaled into Topeka, Kansas, and stopped at the Brown vs. Board of Education National Historic Site on the 60
th
anniversary of the court's landmark decision, he was moved.
"I'm struck here, looking at this mural," he said. "It takes me back to those days and our conversations." 
The site is the home to the former Monroe Elementary School, one of the four segregated schools for Black students in Topeka. The case stemmed from the "separate but equal" doctrine that inhibited access to education, as well as transportation and employment.  
On May 17, 1954, the U.S. Supreme Court unanimously ruled segregation unconstitutional, which led to the dismantling of segregated public schools.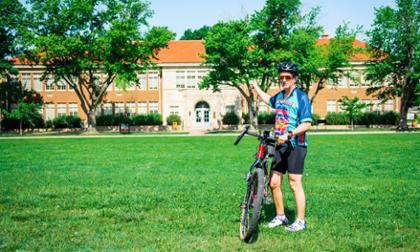 Shipp arrived in Topeka by bicycle as part of a 12-day, 800-mile trip across Kansas to raise $8 million in student scholarships to make higher education more accessible. 
"I think we spend a lot of time in the country talking about the pursuit of a more perfect nation, and that's really what this was," he said of the court case. "This historic site is the home of thinking about inclusion and belonging as part of who we are." 
"I think sometimes we miss the point of what inclusion and belonging really means," he said. "I was raised to care for others, regardless of background, and to reach out a hand."  
"I look at this, such an historic location where all of this happened, and I go back to our kitchen table and our conversations. I think about how important it is today and how it's influenced K-12 and higher education. You can't help but walk around any of our campuses and you see a far more integrated future where everyone belongs." 
Riding with Pitt State Economic Development Director Darrell Pulliam (BST '90), Shipp was on his way to the monthly Kansas Board of Regents meeting, to be held less than a mile from the historic site.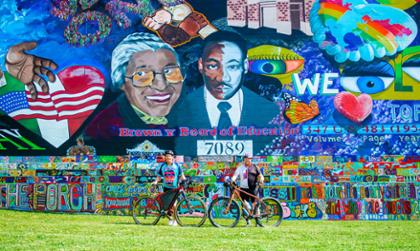 This evening, a gathering is planned from 5:30 to 7:30 p.m. at Iron Rail Brewing in Topeka. 
On Thursday, he'll head to Emporia and on Friday to El Dorado. 
About "Dan Bikes Kansas"
"Dan Bikes Kansas" will take the president and his sag wagon across 800 miles of Kansas, with planned gatherings in 15 communities and stops in several more along the way, over the course of 12 days. 
Learn more and register for a gathering at pittstate.edu/danbikesks