For Shelly Grimes, this year's Super Bowl will be a dream come true for two reasons: her beloved Kansas City Chiefs will face off against the Philadelphia Eagles, and she was chosen as a volunteer to help not just at the stadium, but at Super Bowl events all week leading up to Game Day.
Grimes, an assistant instructional professor in PSU's Health, Human Performance, and Recreation Department and a fitness class teacher at the Kansas City Chiefs Fit Gym in Kansas City, applied for the chance a year ago.
"Obviously back then we had no idea whether the Chiefs would have a shot at playing this year or not," she said. "I go to all the Chiefs games, they're doing so well, and I thought I would love to be part of the Super Bowl if they ever made it that far."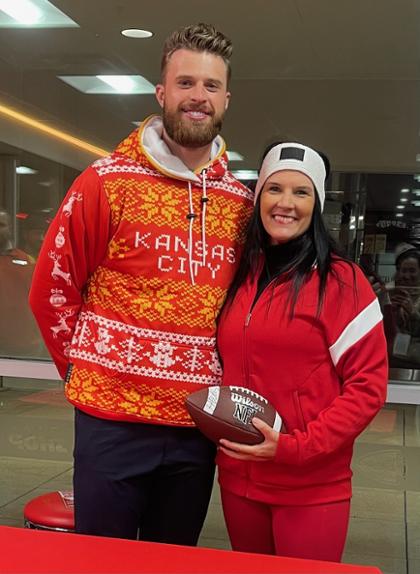 She found a volunteer application online and began a lengthy process of clearing background checks and other hurdles.
"It took six months to be evaluated," Grimes said. "They wanted to know all about me — my occupation, everything."
That occupation has for the past fourteen years included teaching physical education to students in the HHPR Department. During her Theories and Activities II course, she focuses NFL Flag Football in Schools — a program that has helped her introduce the goal of getting 60 minutes of exercise each day to thousands of K-12 students.
"Lo and behold I got a letter that said I had made it, and then we found out the Chiefs won and I couldn't believe it," she said. "They sent me an announcement telling me my duties, and I'm so excited!"
Grimes will travel to Glendale, Arizona, in time to get her credentials and her own Super Bowl attire for Monday night's kick-off event.
"I'll help welcome fans at the stadium and help them find what they're looking for," she said.
Tuesday, volunteers will be at the NASCAR Track to prepare gift baskets for players to take to children in local hospitals.
Wednesday through Saturday, she'll be working at special events like the Super Bowl Fan Experience, immersive activities at Hance Park, the NFL Honors Evening, concerts, and other fan- based events.
"There's a lot more to it than I ever realized," she said. "I'm doing online trainings to prepare for it all."
On Game Day, she'll be working inside the stadium as a hostess for fans and will get to experience first- hand the excitement of being at one of the largest and most prestigious sporting events in the nation.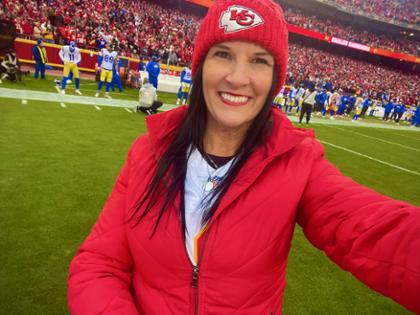 Grimes is certainly no stranger to wearing red and gold and working on Game Day. She has held flags at Arrowhead Stadium for the National Anthem, and she's worked plenty of Game Days at Carnie Smith Stadium, too.
"For Gorilla Game Day, my role for several years was as the spirit flag coordinator; I'd set up Gorilla Walk, and I also coached the dance team," she said. "Our family's connection to football is strong."
This, though, is "next level."
"It's just still hard to believe — I never thought I'd get selected for this," she said. "I'm embracing the opportunity."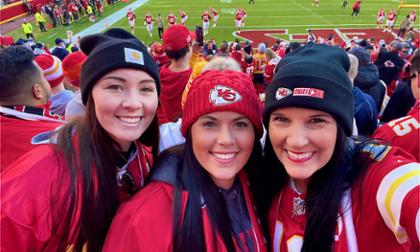 Photo:
Grimes (right) is a 1993 and 1995 graduate of Pittsburg State University. Her daughter Aleigh (left) is a physical education graduate of the HHPR Department. Her daughter Ashleigh (center) is an exercise science/sports management graduate of the department and is the football operations manager and campus recruiting director for Pittsburg State Football.