The second Veterans Resource Center is now open and in use at Pittsburg State University — this time on the east side of campus in the Kansas Technology Center.
The first one opened in Room 102 Whitesitt Hall in August 2018. 
It's the latest effort by the university to make student veterans feel welcome and supported on campus, said Robin Stricklin, the university's veteran services, billing, and records coordinator.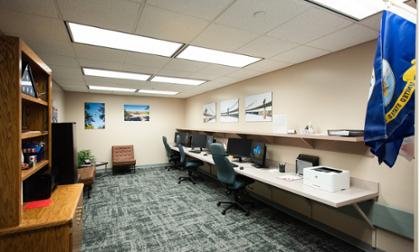 "When I was made aware of the veterans lounge in the KTC, I was thrilled that I would have a private shared space for me to conduct my studies," said Mason Harmon, a junior in the diesel and heavy equipment automotive program. 
Harmon is a veteran of the U.S. Army.  
"I visit the KTC lounge on average two to three times a week," he said. "The amenities are nice. Free printing. Computers. Comfy chairs and a kitchenette. It's a nice place for current and past service members to hang while waiting for their next class to begin." 
Joshua Vanatta, an electrical engineering technology major, also uses the KTC veterans resource center between classes. 
"I use it every day," said Vanetta, a veteran of the U.S. Marines. "It's nice because others who use it are people I relate to. It's our own space, and it makes me feel good that it's here."  
Stricklin said a keypad entry soon will be installed to ensure it's being used only by veterans — a move Harmon and Vanatta appreciate. 
She also wants to restart the Student Veterans Organization on campus — previous members graduated, leaving a void in leadership. Those interested may drop by the Registrar's Office in Room 103C Russ Hall to discuss it with her or call 620-235-4202.  
Learn more 
Learn more about attending school as a veteran at PSU at www.pittstate.edu/veterans