For the 13 years that Professor Craig Fuchs directed the Honors College at Pittsburg State University, he wrapped up each meeting, event, or picnic with words of motivation for his students: "Go forth and conquer."
It made a difference, they said. 
When he announced his retirement after being diagnosed with ALS, also known as Lou Gehrig's Disease, they wanted to pay tribute to him and give him some motivation. They've been planning all summer for an event for Sept. 10 in Gorilla Village east of Carnie Smith Stadium, and are now calling on alumni of the program, as well as area runners across the region, to make it a reality.
Their 5K run, 1-mile fun run/walk is called "Go Forth and Conquer," and is open to the public. It will serve as a fundraiser for the Mid America Chapter of ALS and will be followed by an informal Honors College alumni gathering.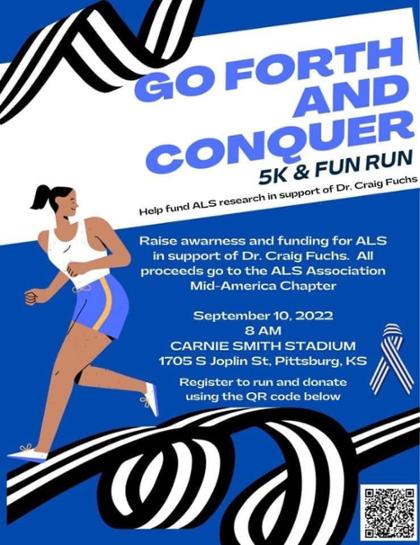 "When I first got here, I struggled with trying to learn how to be an independent person away from home, and I ended up in his office a lot of days asking about certain situations," said Trinity Dobbs, a Webb City senior majoring in pre-med. "He was a really good listener, and he gave good advice." 
Niamh Dixon, a Wichita senior majoring in biology, agreed. 
"His advice was always solid, professionally or personally speaking, and he was always there for us," she said. "College can be hard transition for a lot of people, and he really worked to make it as easy as it could be for his students through the years." 
Those students total in the hundreds; the Honors College cohort each year is about 30. Fuchs also taught music for many years at PSU and led study abroad trips with students, including as recently as Spring Break when Dobbs and Dixon traveled with him to Italy and France. 
When he announced at the spring Honors College banquet he would step down, Dixon and Dobbs wanted to do something meaningful. 
"We settled on a fundraiser, because he's always been there for everyone, and we wanted a chance to reciprocate our love for him like he's shown for us over the years," Dixon said. "He was emotional, because he was newly diagnosed, but he was very happy and honored and appreciative." 
"We wanted an event that alumni could come to as a last chance to see him before he moves to Kansas City," Dobbs added. "Raising money is awesome, but that's not only what this is about. We all want to really let Fuchs know we're here to support him, and that he made a difference." 
Starting in May and continuing through the summer, students jumped in to take on roles. 
"A student took the lead on volunteers, a graduate helped us with graphic design on fliers and t-shirts, others are collecting donations, and about 10 or 12 students will help with the set-up and tear-down that day," Dixon said. "And we have several who will run." 
It's been a learning experience they will carry forward into life after graduation, she added. 
"Before COVID, when we were freshmen and sophomores, the older students planned and led events," Dobbs said. "Then COVID hit and we stopped having events. Now, in our senior year, this has been the first opportunity for us to plan something and carry it out. We didn't know how many hoops there were to jump through with something like this. We definitely learned a lot from it." 
They plan to leave written tips for those in Honors College who might want to plan similar events in the future. 
Fuchs said this is another example of the integrity and sense of purpose the Honors College — which puts an emphasis on community service and leadership — embodies. 
"It's students giving of their time and energy for a greater cause," he said. "I am so honored and truly blessed to have had the chance to be a part of this group and I thank them from the bottom of my heart for their support, love, and concern. Go Forth and Conquer!" 
To participate: 
Registration may be completed online.
Before Sept. 5: The fee for the general public is $30 and for students, $20.
After Sept. 5: The fee will increase to $40 for the general public. 
The day of the event, registration will begin at 7:30 a.m. in Gorilla Village near Champions Plaza for two options: a 5K or a 1-mile fun run/walk. Both events will begin at 8 a.m. and will be followed with a chance to gather and visit with Fuchs and each other. 
Registration includes a t-shirt, water, and snacks. Plaques and prizes will be awarded. 
Questions?  
E-mail pittstate.conquerALS@outlook.com or heckstein@pittstate.edu.