An immigrant from Mexico, Sandra Cobos was the first in her family to go to college. After becoming a single mom as a student, she went on to earn three degrees from Pittsburg State University.
Today, she's a new faculty member, and just cut the ribbon on her new downtown boutique aimed at helping women and children.
It is the perfect way, she said, to celebrate the start of National Hispanic Heritage Month, which runs Sept. 15-Oct. 15: by showing others what can be achieved through hard work, determination, and a desire to serve others. 
"I just can't believe this is the life I get to live now, and I am so, so grateful," she said. 
Sacrifice 
Cobos, an assistant instructional professor of psychology and counseling and the director of the school psychology program, grew up in Mexico. 
"We moved here to the U.S. when I was 9," she said. "My dad wanted to give me the one thing no one could ever take away from me and that was an education." 
They settled in Northwest Arkansas. As a high school senior, she chose PSU. 
"It just felt right," she said of the university and the campus. 
"My dad sacrificed everything and worked so hard to put me through school," she said. "He was my number one supporter and it is what helped me along the way. Now as a parent, I see he always believed in me in ways I didn't believe in myself."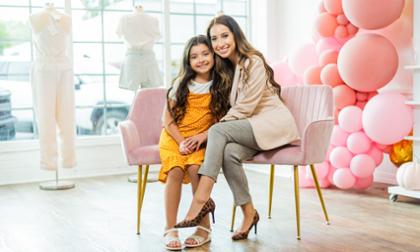 Luna 
When Cobos became a mother, her daughter, Luna, was born prematurely and diagnosed with hydrocephalus.
"When I learned about her condition and potential for developmental delays later in life, I realized I wanted to be the best advocate I could be," she said. 
Cobos powered on and earned her bachelor's degree by Luna's first birthday. Luna couldn't lift her head at that time, though, and couldn't walk until she was almost two years old. Cobos pursued as many resources as she could to help Luna with early intervention and began to understand the importance of empathy in her field — particularly when delivering difficult results to parents. 
"I know exactly what it is like to hear that your child has a disability and I believe it is what has helped me be a better practitioner," she said. 
Today, Luna is 8 and "doing amazing," Cobos said. "She's scoring in the 98th percentile in reading and math now, which speaks to the importance of early intervention. I share her success story with my students. She is the reason I'm so passionate about the field of school psychology." 
Cobos went on to earn her master's degree and her educational specialist degree, both from PSU. She worked for six years as a school psychologist in Carthage, Missouri, in Leavenworth, Kansas, and at the Southeast Kansas Interlocal in Cherokee and Pittsburg, before joining the faculty at PSU this fall. 
It was her role as a school psychologist that she began seeing extreme cases of poverty and neglect. 
"I saw it in ways I hadn't seen it before," she said. "It really sparked something." 
3 Degrees 
"I was always coming home from work crying," she said. "Kids I served didn't have shoes, clothes — they would wear the same thing every single day." 
Cobos enjoys fashion, with a special love for business casual attire, and when remodeling a home a few years ago converted a small room into a closet. 
"I was sitting in that room one afternoon and got a call from a social worker asking if I knew of anyone who would take a kid in for a few nights," she said. "I remember sitting in that room crying, and I looked up and saw the clothes so neatly displayed, and I had a moment of feeling lucky and selfish at the same time." 
In that moment, she found inspiration: to start selling clothing and then donate the profits to help children. 
"One thing led to the next, and I started selling them online," she said. 
The concept and her site caught the attention of stores at Oak Park Mall and the Plaza in Kansas City. 
Cobos began doing pop-ups at businesses here in Pittsburg, buying carefully curated business casual outfits wholesale and reselling them at places like The Beauty Bar. 
"Women who were coming in to see what I have were so happy I was providing this to Pittsburg," she said. 
When Revel Boutique closed its doors at 810 N. Broadway, Cobos couldn't sleep. 
"I reached out to the previous owner and the property owner and they were both so helpful and gracious," she said. "Within hours, I had an agreement." 
A storefront for 3 Degrees, a boutique specializing in "style driven workwear for the modern women," was born.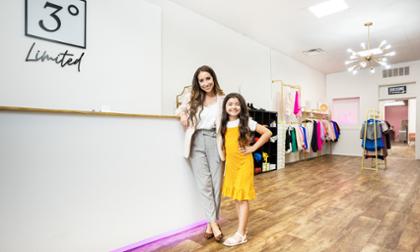 Next 
She was excited to celebrate a ribbon cutting and grand opening on Sept. 16. But her dream, she said, is so much bigger than the store. 
"I really would like to establish some sort of non-profit and foundation to raise money to help single mothers," she said. "I have always had a passion for mental health awareness and to be able to give back to women and children in need." 
Cobos passes her life experiences on to her students in hopes it will help them personally and professionally. And she's started work on yet another degree: her doctorate. 
"The focus of what I do is I wouldn't be here today if it weren't for people who believed in me, and I want to give that back," she said. 
"It's been a full circle event – now being in this position at PSU, doing what I'm doing with the store – this is why I was meant to be here. I'm so excited. Every day I walk in to work and I still can't believe that I'm here."
---
Learn more: