You'll soon notice more crimson and gold in Pittsburg than usual: Paint the Town Red Week is coming up! 
This year's theme: Rock 'N Roll in the Jungle.  
The annual event, now in its 17th year, is a collaboration between the Pittsburg Area Chamber of Commerce and PSU's Office of Alumni & Constituent Relations in the week leading up to Pittsburg State's first home football game.  
The first year was small and grassroots: a handful of businesses decorated their windows, and the pep rally consisted of one class from George Nettles Elementary School that walked to the practice field east of the Crossland House and released red balloons.  
Today, dozens of businesses and university offices participate.  
Chamber Special Events and Membership Director Tori Colvin said the event is a way that the business community can show appreciation for the impact that the university has on the region.  
Alumni & Constituent Relations Director Jon Bartlow said the event shows the pride, spirit, and collaboration of the university and the community.  
Details and registration information: pittsburgareachamber.com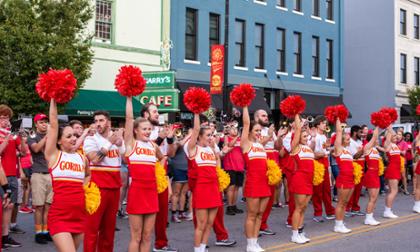 Schedule: 
 
Monday, Aug. 29:  
Decorating begins on campus and in the community 
Tuesday, Aug. 30: 
Evergy Community Favorite polling begins online 
Wednesday, Aug. 31:  
9 a.m. Paint the Town Red Business Decorating Contest Judging 
9 a.m. On-campus judging begins for all departments 
12 p.m. Business Decorating Contest winners announced live on KSN 
6 to 8 p.m.: Community Block Party and PSU Pep Rally (music, games, and food) at Broadway between Fourth and Sixth streets 
6:30 p.m.: "Run With Gus" Kids Fun Run. Free; no pre-registration required 
6:40 p.m. On-campus decorating winner announced 
Thursday, Sept. 1:   
8 a.m. Chamber Coffee at PSU Alumni Center 
11 a.m. Evergy Community Favorite Polling closes 
7 p.m. First home football game (PSU vs. Central Missouri) 
On-field trophy presentation for Paint the Town Red business winners 
Friday, Sept. 2:  
8 a.m. Chamber Coffee hosted by Little Balkans Day at Pritchett Pavilion 
9 a.m. to 5 p.m. Paint the Town Red Freeman Health System 5K packet pick-up at the Chamber office, 117 W. Fourth St. 
Saturday, Sept. 3: 
6 to 7 a.m. Paint the Town Red Freeman Health System 5K packet pick-up and race day registration 
7:30 a.m.: Paint the Town Red Freeman Health System 5K Run (begins at Axe Library, ends at Gorilla Village)  
8:30 a.m. 5K Award Ceremony