Since childhood, Megan Johnson (BS '09, BSEd '12, MA '21) 
has had a passion for justice and helping others and has sought out jobs serving children, teens, and families. In her new role as program coordinator for advocacy services and wellness education at Pittsburg State, she's looking forward to serving university students.
"Ever since I was young, I have had a passion for justice and helping others through values instilled in me by my family. That's part of what drove me to become a teacher — I always wanted to make a difference and saw education as the avenue that allows people to better their lives," she said.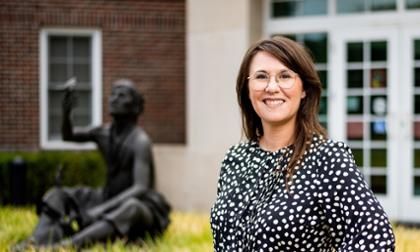 Past positions include serving as a job placement specialist for clients in Beyond Tomorrow, as a family support worker for TFI Family Services with children in state custody due to abuse or neglect, and as a family education and support specialist for the Economic Security Corporation of the Southwest Area.  
From 2013 to 2021, she was a high school teacher in Girard, Kansas.
In 2021, she joined the staff at PSU as the Title IX coordinator, and since 2015 has been on the board of the SEK Women Helping Women: A Fairy Godmother's Fund. 
"I'm really excited about this new role – I'm eager to have a positive impact on the student body and on the culture here at Pitt State," she said. "I'm really familiar with the systems and services that are available to students and will be able to help them navigate all of those resources." 
Her office is in the Bryant Student Health Center where she will help connect students to resources like Safehouse, which provides a broad array of services related to assault and advocacy services. 
"I'll help students connect to resources and then navigate them through counseling services and pursuing Title IX reporting," she said. "And I will work with Safehouse to do programming on campus, as well. Safehouse will be much more visible on campus this year." 
She also will be the advisor for Students in Violence Prevention, or SVP, and will reignite the PSU Peer Educator Program. 
"If students are interested in getting involved in violence prevention, we will have weekly meetings throughout the school year," she said. "I will be recruiting students interested in becoming peer educators, too. They will be trained and certified by NASPA." 
"Any students who want to influence the culture on campus to be a healthier environment, and to become active in programming, those are the kinds of students I'm seeking," she said. "It can be those who have a passion for wellness or who have a major that relates to it – social work, psychology, HHPR – in order to build their experience and their resumé." 
"I'm very excited about a multi-dimensional approach to wellness on campus – not just physical health, but mental, spiritual, social, and intellectual wellness," she said.