The word "Gorilla" pops up everywhere in Pittsburg: on license plates, on banners, on apparel worn by all ages, and on menu items ranging from burritos to coffee beans to crepes. Starting in August, it also will be on beer.
Joel Stewart, an award-winning brew master who opened The Jolly Fox Brewery in downtown Pittsburg in 2019, is launching Golden Gorilla Ale in partnership with Pittsburg State University as PSU's first licensed beer. The seasonal ale will be available August through November.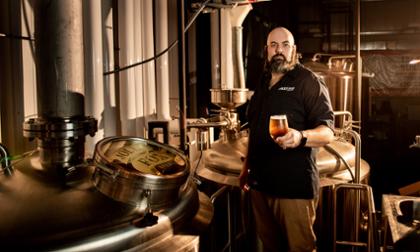 "I have greatly enjoyed working with PSU to bring this beer out for the community to enjoy and celebrate this unique community-focused product," said Stewart. 
Stewart described the beer as "a light-bodied easy drinking golden ale that has great tropical fruit notes that make it a perfect companion for summer drinks or fall football."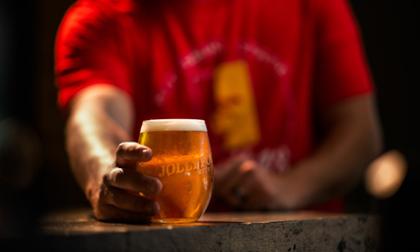 Pitt State's Chief Marketing Officer Abigail Fern said PSU is excited to partner on a project that helps bring people together and was made to show the pride in Pittsburg and Gorilla Nation.  
"Pitt State is all about community, and our mission includes helping Pittsburg grow," said Fern. "Entrepreneurs like Joel help make our city a great place to live, work, and visit, so he's an excellent partner in that mission." 
The university is working with its food and beverage partner, Sodexo, to make the beer available at football games this fall. The beer will be kegged and bottled, and available through The Jolly Fox's distribution network. It will be on tap at The Jolly Fox and will be sold at Brick + Mortar Social House and Pairott Head Liquor — both owned by PSU graduates. 
An after-hours event for alumni and special guests is being planned for Aug. 25 by Jon Bartlow, director of PSU Alumni & Constituent Relations, in conjunction with the launch. Alumni may RSVP at pittstate.edu/alumni.