On Monday, May 30, at 10 a.m., Pittsburg State University, home to the PSU Veterans Memorial, will honor veterans and their families during a virtual Memorial Day Ceremony. 
The ceremony will feature recorded remarks by Kirby Brown, current dean of Park University's College of Management and a 40-year veteran of military and federal service.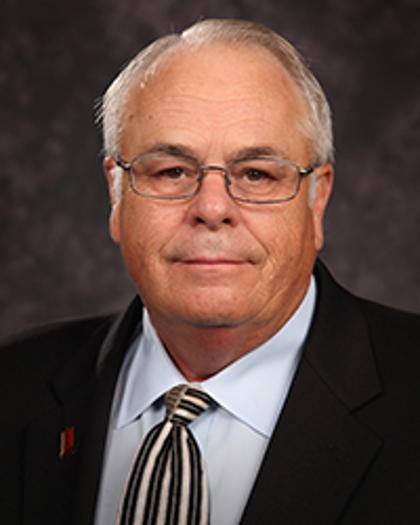 The ceremony also will feature traditional elements of Memorial Day ceremonies including recordings of a color guard comprised of cadets from PSU's ROTC program, and recordings of the playing of Taps and singing of the National Anthem by PSU music students. 
The video may be viewed at pittstate.tv. It will remain available through the archive for future viewing at any time. 
Brown is a two-time graduate of PSU, having earned a bachelor's degree in manufacturing technology in 1975 and a master's degree in education in 1977. He earned a master's degree in logistics management from the Florida Institute of Technology in 1991. 
He completed his federal career as a member of the Senior Executive Service with the Department of Defense. Prior to joining Park University, he served as the deputy to the commanding general for the U.S. Army Combined Arms Center at Fort Leavenworth, Kansas.  
Brown was the chief operation officer for the Center's global operations, which is composed of four major subordinate organizations, eight Centers of Excellence, 17 schools, and 33,000 employees. During his tenure, Brown orchestrated the transition of the disparate schools into a university construct and served as the lead for the professional education of the Army's 275,000 civilian employees. 
His other military assignments have included leading Army research and development of space-based technology units, along with 22 years of uniformed service in the Army. He has served as a senior military analyst with the Institute for Defense Analyses and in various C-level leadership positions with medium-sized defense companies. 
He has received the Senior Executive Service Presidential Rank Award at both the distinguished and meritorious levels, the highest and second-highest awards given to career SES members, as well as honors including the Meritorious Civilian Service Award, Superior Civilian Service Award, Legion of Merit and Meritorious Service Medal. He also was recognized by Pittsburg State with the Meritorious Achievement Award in 2015. 
About the PSU Veterans Memorial 
The public is welcome to visit the PSU Veterans Memorial at any time, any day of the year. A permanent tribute to all who have served in one of the five branches of the U.S. Armed Services at any time, it is one of the most often-visited sites in Southeast Kansas.  
It features a half-scale replica of the Vietnam Memorial Wall in Washington, D.C., more than 3,400 engraved granite pavers honoring persons living and deceased who have served in the military, an online and print directory to assist with locating names, 50 state flags, a reflecting pool, and an eternal flame.  
The 250-seat amphitheater is a venue for special events including Memorial Day and Veterans Day observances and a variety of events in collaboration with the PSU Military Science Department and ROTC. At each entrance to the amphitheater is a large bronze sculpture — one representing military strength and a counterpoint representing world peace.  
The site is located at 1909 S. Rouse Ave. in Pittsburg, Kansas. Additional details may be found at psuvetmemorial.org and on Facebook and Instagram at @PSUVeteransMemorial.