Editor's note: Who was the "Wells" in Heckert-Wells Hall? In our new "Namesake" feature, learn about a family of three brothers whose connection to Pitt State began in 1915. One of their descendants teaches here, and one just became the latest Gorilla to graduate.
A century ago, a young man named A.Y. Wells rode his bicycle 125 miles, from Cedar Vale, Kansas, to Pittsburg State University.
At the time, the bike he took was primitive as was the route he took — this was long before the two-lane and four-lane paved highways of today.
His goal: to earn a biology degree.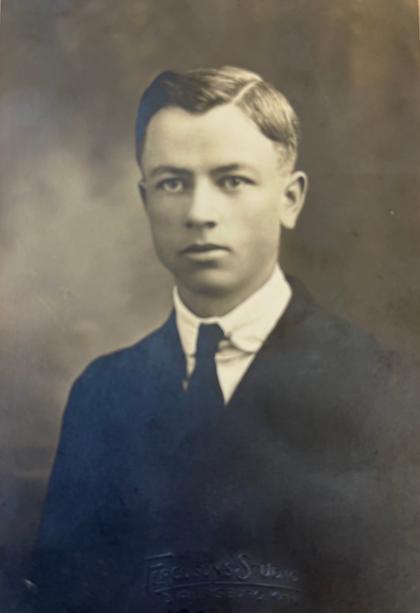 As a student, he worked as a janitor in Russ Hall, the university's first building and the original home to the biology department.  
In 1924, he achieved his goal. 
"By all accounts, their family was very poor, and education was their ticket out of poverty," said Julie Allison, PhD and a university professor in the Department of Psychology and Counseling. 
Allison has an insider's view: Wells was her grandfather. 
She has been on the faculty at PSU since 1991 and is now teaching grandchildren of former students.  
"I'm not from here, but I love the feel of it, love the size of the community," she said. "This was my number one pick when looking for a job." 
Her two great uncles — A.Y.'s brothers — were once on the faculty, too: J. Ralph Wells and George Wells.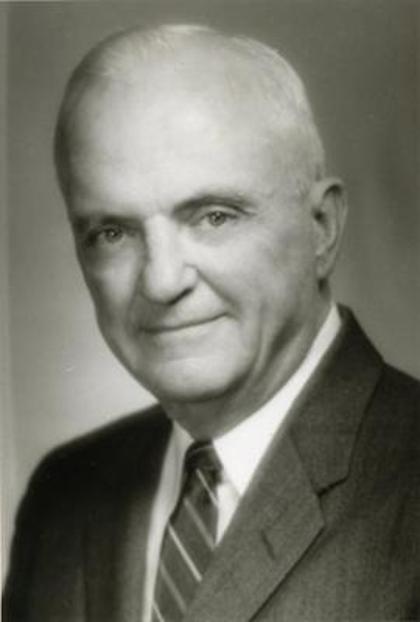 J. Ralph Wells graduated from College High School at PSU and earned a degree from PSU in 1919, just ahead of his brother A.Y. He joined the Biology Department faculty that year and when he retired in 1963, he'd been chair of the department for 24 years. Highly published and respected in the field of health sciences, he also served as president of the Kansas Academy of Science.

 
If his last name sounds familiar, that's because it's on the building that houses today's Biology Department, as well as the Chemistry Department: Heckert-Wells Hall, built on the east side of The Oval at a cost of $5.7 million and dedicated in September 1984. ("Heckert" is in honor of outstanding professor L.C. Heckert, who joined the faculty in 1926 as an associate professor and served as chair of the chemistry department from 1933 to 1961.)

 

 
Students who graduate from those departments have, like J. Ralph Wells, gone on to significant achievements in the fields of medicine as well as other areas of science.

 

 
As for A.Y. and George?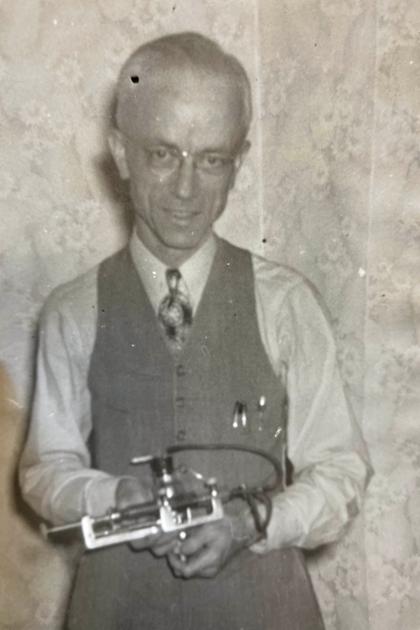 A.Y., the one who rode his bicycle here, went on to become a longtime beloved physician, president of the medical staff at Newton Memorial Hospital in Winfield, Kansas, and the inventor of the Wells Intravenous Pentothal Apparatus for administering anesthesia. 
George was, like Allison, a longtime professor of psychology at PSU; he joined the faculty in 1923 and taught for 30 years.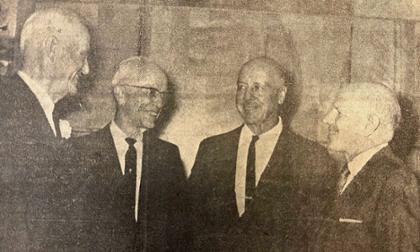 At a retirement dinner, J. Ralph Wells (left), talks with his brothers A.Y. Wells

and George Wells, along with faculty member Theodore Sperry.
Newest Gorilla grad
And, as of May 13, the family now has one more Gorilla graduate: her son David Green — A.Y.'s great grandson — who just graduated with a 4.0 in Construction Engineering Technology.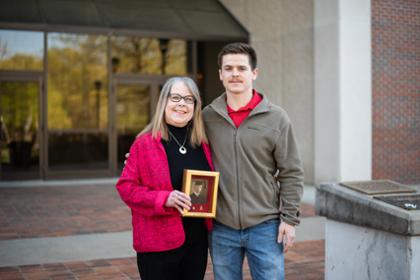 He grew up running up and down the stairs to her office in Whitesitt Hall. But the School of Construction's reputation was a big draw. 
"He is following in the footsteps of a great family tradition," his mom said.

---

Learn more:

Department of Psychology & Counseling