Bill Muse is a man with a mission. 
Each year just before Memorial Day and Veterans Day, the longtime local stone mason comes out of retirement to install granite pavers at the Pittsburg State University Veterans Memorial in honor of those who served.
Since the memorial was dedicated on Memorial Day in 2004, he's installed 3,503 of them, engraved by SI Memorials, of Parsons, Kansas. 
It's personal. 
A Vietnam veteran, Muse served in the U.S. Army's 175th Field Artillery and the 1st Cavalry Division from 1969-1975. Just before Veterans Day last year, he finally got around to installing one for himself, inscribed "Muse Masonry." 
Muse prefers to not talk much about his service, however, choosing instead to talk of the others whose names are inscribed in the pavers lining the Sutherland Plaza and the Amphitheatre. 
"It always makes you wonder, 'Who was that guy, and what action did he see?'," Muse said. "No matter what the answer is, this is a way for their names to live on forever."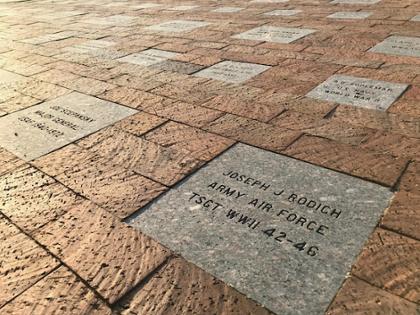 This week, he was back at the memorial laying 13 more pavers just before Veterans Day. The pavers will be dedicated as part of a ceremony that will begin at 1 p.m. and is open to the public.  
This time, he had help from his significant other, Leana Miller, also a veteran. Miller, who was Muse's high school sweetheart, went on to serve in the U.S. Navy in Washington, D.C., for the White House and Pentagon from 1971-73. 
Installing the pavers is a tedious and exacting process that, like he always has, Muse took great care again this week to get just right. 
"You use a screwdriver to carefully pop up a blank paver. You have to be patient. If you're not, you'll wind up chipping the edge," he said. 
In the empty space left by each blank paver, he put a paver that had been engraved, tamping it down until it was level.  
He and Miller then poured handfuls of sand over each paver, ensuring the sand settled into the space around each edge. They pushed a broom over it, added more sand, and repeated the process. 
Finishing their task, Muse stepped back to survey the Sutherland Plaza, flags waving in the breeze. 
"There used to be fishponds here back in the day," he said. "We had no idea that something this beautiful would wind up being here and would be this popular." 
Now, it's one of the most frequently visited sites in Southeast Kansas, and throughout the year small tokens and flowers can be seen on the pavers, having been left by friends, families, and loved ones. 
"I've been to veterans memorials near and far, and this one is without a doubt the prettiest one around," Muse said. "It's really something to be proud of." 
For more information about purchasing a paver, visit www.psuvetmemorial.org 
About the memorial 
The memorial is located at 1909 S. Rouse at the eastern edge of the Pittsburg State University campus.  
It features a half-sized replica of the Vietnam Memorial Wall in Washington, D.C., and a kiosk and directory to help visitors locate names. A 250-seat amphitheater serves as a venue for special events and a quiet place to reflect.  
In addition to the wall, the memorial includes an entry rampart featuring U.S., state, and university flags and the five seals of the uniformed military branches, two impressive entry portals, an arch just behind the reflecting pool with an eternal flame, and patriotic bronze sculptures.    
The plaza of the amphitheater, as well as the entrance plaza, features more than 3,400 engraved granite pavers paying tribute to veterans and veterans' organizations. A display of the 50 state flags is featured on the north berm of the memorial.