By now, plenty of folks across the region have heard the name Timmy Malinowski, the football playing automotive technology student from Pittsburg State who fixed a broken team bus on the way to a game.
"Yeah...it's been kind of a whirlwind," he said Tuesday in the Kansas Technology Center, home to the Diesel and Heavy Equipment program in which he's pursing a major. "I've been tweeted, chosen in a poll, there was even a CBS Sports story about me." 
This is the rest of his story.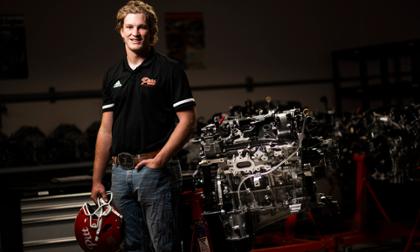 Malinowski grew up in Illinois and as a student at Washington High School in Peoria, mowed lawns along with his brother. He socked away his earnings and for $1,200 bought "a piece of junk truck" — a red 1975 Chevy Stepside — that he would then restore with his dad. 
A few years later, he would replace it with an upgrade — his dream vehicle: a $4,000 black 1984 K20 Chevy 4x4, that he would restore entirely by himself. 
Before even getting to Pittsburg State, he worked four years for a John Deere facility back home, as well as Peterson's Auto and Diesel his senior year in high school.  
"I got to work alongside technicians and learn so much from them," he said. "I was tearing engines out, putting them back together. I learned a lot." 
He was also a long snapper, chosen as an all-conference player as a junior at Washington High School and ranked No. 1 in Illinois and No. 14 in the country. 
"I was talking to big schools..." he said of his senior year. 
And then the pandemic hit and big schools weren't recruiting like usual, much less completing full seasons. 
Malinowski went wild boar hunting with his dad in Texas. 
"And that's when I got a call from a coach at Pitt State," he recalled. "He asked if I would want to stop and visit?" 
He was offered a scholarship, and it came with a perk: the university has a national reputation among industry leaders for his passion, automotive technology. Labs in the KTC offer the latest technology and equipment, and professors are accomplished professionals with industry experience themselves. 
He signed on to be a Gorilla and chose Diesel & Heavy Equipment as his major. 
And on Nov. 13, he was on one of three buses headed to Ft. Hays State University — a 12-hour round-trip trek across two-thirds of Kansas and back — to play against the Tigers in the last regular game of the season. 
"Suddenly we pulled off to a rest area which wasn't planned, and the bus driver opened the hood," he said. "We knew something was wrong." 
Coach Brian Wright began to worry. 
Everyone on the bus told Malinowski to go have a look. 
"I fix my teammate's cars — I think I've done four or five so far — so I guess they thought I could fix the bus, too," he laughed. 
Diagnosing what still worked and what didn't, he determined the cause: a broken clamp that held the turbo hose. The bus drivers had no tools, but Malinowski did. 
"I always carry a Leatherman multitool," he said. 
And with minutes to spare before kickoff time, the Gorillas rolled into Ft. Hays and suited up. 
Malinowski was a hero before he even took the field. 
"I'll take the moment of fame," he said.  
Long snappers don't get much of it. 
"If you're not being noticed, you're doing a good job as a long snapper," he explained. "You don't want to be noticed at all. You want to fly under the radar. Otherwise, you're screwing up. There is no fame in it at all." 
The Gorillas took the win, 34-24, and made it home without incident. 
And then, word got out about Malinowski's role in getting them there on time. 
"Pardon My Take" by Barstool Sports nominated him for their "Football Guy of the Week," and on Tuesday, he was announced the winner after receiving thousands of votes. 
A story was published in the Peoria Journal Star, a major daily newspaper for his hometown region. 
TV stations across the region requested interviews. 
It hasn't gone to his head — he promises. 
"I'm still just living life," he said. 
He likes it at Pittsburg State, he says, and is happy to return this week to being a student in classes like manual transmissions and engine systems. 
"I like it here a lot," he said. "I'm from a town where everyone came to games and supported the team, and it feels like that here. There are good people here. Now, I'm just looking forward to getting into some upper-level classes and taking on new challenges." 

 
---
Learn more: