A discarded metal ironing board, wooden door, and reclaimed wood are among the many canvases used by artist Jared Jennings ('15). And the art he creates with those discarded pieces? It's therapy — a way of processing his struggles with mental health.
Now through Oct. 15, that art is part of his exhibition, "Nature vs. Nurture," on display in the Krug Gallery on the first floor Porter Hall at Pitt State, home to the Department of Art, where Jennings is now teaching the next generation of artists as an adjunct instructor. 
"Art is an outlet. It's going through the process. When I make art, it's how I analyze and work through things," said Jennings, who has struggled with depression and anxiety.  
He is not alone: One of every five Americans struggles with a mental illness. 
"The art work I do is how I further understand what I'm going through on a daily basis – whether it's getting up in the morning, or dealing with more serious things in life," he said.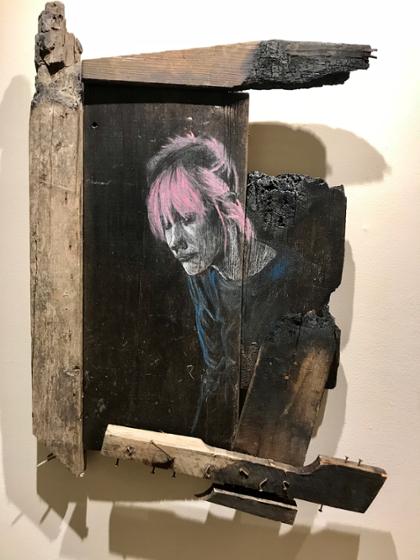 After graduating from Pitt State, the native of Neosho, Missouri, took a few years to pursue artistic endeavors, then began work on his MFA through Ft. Hays State University. Now 30, he completed that in July and returned to Pitt State to teach drawing. 
"When I didn't know how to speak, art gave me a way to say what I needed to say," said Jennings, "and it's OK if people are interpreting something different for themselves. I know everyone is coming to it with their own eyes, their own experiences." 
Two pieces in his exhibition are autobiographical: "I Will Not Grow Only to Be Cut Down," done on a piece of reclaimed wood and featuring a young child with branches and leaves sprouting out of the child's head; and "Unsung Psalm," a mixed media piece done on a wooden door and featuring a self-portrait.  
"The art life is very different than what I grew up with," said Jennings, who was the first in his family to graduate with a college degree. "You have to sell yourself, there's risk, and there is so much dependence on yourself." 
"Most people in my family are hard-working laborers. I did concrete work for seven years with my dad," he said. "That adds to my material choice in my art — it is my connection to my roots." 
Although Jennings doesn't mind at all if students and others he encounters ask him about mental illness, he hopes that they also understand that art doesn't have to solely be commercial in nature — it can be beneficial in other ways. 
"I did my job if someone is standing looking at a piece of mine and trying to come up with their own story," he said. 
See it 
Jenning's exhibition is open free to the public from 8:30 a.m. to 9:30 p.m. Monday through Thursday, and until 4:30 p.m. on Fridays. 
Getting help 
Pitt State's Bryant Student Health Center offers a range of counseling and psychological services for current students.  
Counseling sessions are available to help students cope with stressors associated with college life and treat mental health concerns, such as anxiety and depression. All services are provided in a supportive and confidential atmosphere. Counseling may vary from a brief, solution-focused approach to a more in-depth approach based on student need. The approach or treatment plan is discussed with the student and determined on a case-by-case basis. University Counseling Services staff work in close collaboration with Bryant Student Health Center medical staff to coordinate student care. 
Call 620-235-4452 or visit the Bryant Student Health Center to schedule an appointment with a counselor. 
If you are experiencing an urgent mental health issue, Monday through Friday 8 a.m. to 4 p.m.  call 620-235-4452 to discuss options. Outside of operating hours, contact the local crisis number in Crawford County, 620-232-SAVE (7283).