One of 
Paul Hilbert
's classrooms has no walls, no roof, and no desks. 
It's the perfect laboratory, he said, in which to learn the art and science of construction. 
One day this spring found him there wearing a hard hat and safety vest as a bulldozer, a loader, and an excavator brought to life a stormwater mitigation feature.  
As a junior majoring in construction management at Pittsburg State University, he designed what was being built using computer software — a project he's not sure he'd have gotten to do anywhere else.  
"It's pretty awesome to see this come to life," said Hilbert, who came to Pitt State from Joplin, Missouri, spent several weeks shooting elevations, transferring them to the computer, and finding the land's existing grade in order to build his model.  
"The hands-on opportunities we get here are pretty amazing," he said.  
At the edge of the worksite, several clusters of a dozen students are learning from professionals who volunteered their time and equipment. Among them: Dondlinger Construction — one of the largest and most diversified construction companies in Kansas.  
Si-Tech, a survey equipment company, also comes to campus to make equipment available for students to use.  
"We want our students to see the process and to get to do each step along the way," said Jim Otter, who directs the School of Construction, as he watched the work underway. "They've gotten to do it all out here — ditch work, rock work, slopes, trenches. It's such a great use of this land."  
Otter is referring to 42 pasture-like acres east of campus that an alumnus gave the university for use by construction students.  
"We're out here doing real work with real equipment all the time," Otter said. "Nobody — no other university in this region — does it like this."  
Making connections with companies like Dondlinger and Si-Tech is also an advantage: it allows students to network with company representatives and get a leg up when it comes to their future careers.   
For the companies, it puts them in direct contact with potential employees. Pitt State's graduates are highly sought after; each year, the College of Technology Company Day brings in hundreds of recruiters from across the nation.  

Full circle
A mile away from the outdoor classroom, Hilbert's classmates are doing a concrete pour — another unusual hands-on activity for college students — at the state-of-the-art Kansas Technology Center, where the School of Construction is based.  
"We're doing problem-solving, saw cutting, grading it, learning about safety in a way you can't in the classroom," said Logan McCollar, a senior from Wichita, Kansas, as he prepared for the arrival of a cement truck.  
The project, like many that Pitt State students do, involves collaboration: On this day, it was between a concrete class and a surveying class and was made possible by regional companies who have a partnership with Pitt State.  
"This is all about seeing their experience here at Pitt State come full circle," said Assistant Professor Chris Pross. "This is what it's all about."  
Like many who teach in the school, Pross first spent several years in the construction industry. He and his colleagues often share their real-world experiences with students in and out of the classroom.  
The students said that has made all the difference as they were making progress toward their degrees: faculty not only care, but they can walk the walk and talk the talk, McCollar said.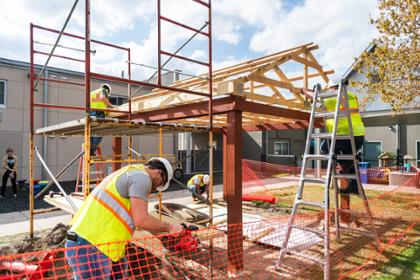 Community

 projects
In any given semester, there are as many as 60 seniors working on about 10 projects not just on campus, but in the community.  
They've built bridges on nearby hike-bike trails. Pavilions at tennis courts. Restrooms at city parks.  
Sherrick Rogers, of Pittsburg, was among those to build a 12-foot by 12-foot pavilion-style sandbox this spring for children to enjoy at SEKCAP Choices Early Learning Center in downtown Pittsburg.  
"It's been a great way to practice what I'll be doing when I graduate in the real world," he said.   
Billy Kelly, of Tonganoxie, Kansas, created the drawings for it, made a materials list, and divided the project into phases. Garrett Armstrong of Wichita created a 3D model of it. And Brody Trupe of McClouth, Kansas, Clint Allen of Colorado, and Luke Loy of Frontenac, Kansas, joined in to build the base structure and roof and ceiling.  
Their classmates have been building a project with Hearts and Hammers for low income families, as well as several projects in and around the Kansas Technology Center that will benefit future students, faculty and staff, and visitors.   
Such projects give them not just experience, they said, but are great additions to their resumé and they're a way to give back.  
"Ten years from now, I'll drive by and see it and know I helped give kids a place to play, which is cool," Rogers said.  

Job outlook
Months before graduating, seniors Cody Cox, of Independence, Kansas, and Kyle Koehler, from El Dorado, Kansas, were offered jobs in commercial construction in Wichita, Kansas.  
Senior Logan McCollar, of Wichita, had lined up a job with Key Construction in Bozeman, Montana — a dream, he said, because he's an outdoor enthusiast and that area "has it all."  
"I'm glad I came here," he said. "The technology here doesn't compare to anywhere else. It landed me a good paying job. I wouldn't change it for anything."  
Senior Colan Snodgrass, of Independence, Kansas, also was hired months before graduation by a commercial construction company in Tulsa, Oklahoma.  
"I'd put Pitt State up against anyone in the nation," he said. "I know others who have graduated from other places and they've done none of this — none of what we've done."  
Jobs in construction may be plentiful and pay well, but companies know to knock on Pitt State's door when looking for future graduates, Otter explained.  
"They know the training and knowledge our students bring to the table because of the quality of our program. They know these students are well equipped to succeed because of what they've done here, and that they can hit the ground running on Day 1. They want Pitt State grads." — Jim Otter

VIDEO: In SHERRICK'S own words
Choose from among six majors in the School of Construction:   
Construction Engineering Technology 
Construction Management 
Construction Technology 
Electrical Technology 
Environmental and Safety Management 
Interior Design