It's been the topic of rumor, speculation and inquiry for months: what restaurants are going in Block22?
Well, the answer has arrived. And it's delicious.
Three new restaurants and a local coffee shop will open inside Block22, the mix-use living-learning community at 4th and Broadway in Downtown Pittsburg. Each has a unique story to tell, and their owners all have ties to Pittsburg and Pittsburg State University. 
The new restaurants coming to Block22 are:
TOAST
The name says it all.
Heather and Roger Horton, owners of Sweet Designs Cakery in Downtown Pittsburg, are opening TOAST, a fast-casual eatery with a diverse menu centered around toast.
"Toast has been around since the Romans," Pitt State alumnus Heather Horton said. "Toast can be found in many households across America today for breakfast, a snack or even dessert. TOAST is comfort food at its finest. The combinations are limitless enough to keep it interesting and the premise is familiar enough to crave it daily."
Horton said the menu will feature a variety of breads and toppings for toast. For example, one visitor may get white bread with seasonal veggies and hummus, and another could get sourdough bread with cinnamon and sugar. 
"Toast is kind of the perfect food," she said. "It can be for breakfast, dinner, dessert … really anytime, and it can be topped with almost anything. We're excited to have some fun with it, get creative and offer a variety of tasty options."
Along with a wide variety of toast options, Horton said TOAST will also feature seasonal salads, vegetables, pastries and gelato. She said the menu will change with the seasons and feature locally-sourced ingredients.
"We will use local, fresh produce as much as possible," she said. "By buying locally we will be supporting our local economy. As we make connections and build relationships with local producers, we will all benefit from this symbiotic relationship. Weaving a web of support is good for the local economy."
TOAST will be located on 4th Street west of Broadway, on the ground floor of the Commerce Building.
BRICK + MORTAR
With a focus on "food, vibe, and ambience," Brick + Mortar has quickly become one of the top dining spots in Santa Monica, California.
And its owners are soon bringing that food and vibe to Pittsburg, Kansas.
"People have been asking us a lot why we would come to Pittsburg, Kansas from L.A.," said co-owner Travis Lester. "My answer is always: why not? Pittsburg is a great community with a lot of growth happening right now. I think this is the perfect place for our restaurant."
For Lester, who co-owns Broseph Restaurant Group (BRG) with business partner Justin Safier, bringing Brick + Mortar to Pittsburg serves as a bit of homecoming. Lester, a native of southern California, is a 2004 graduate of Pittsburg State University, where he played baseball for the Gorillas.  
"I'm absolutely thrilled to be back as part of this community, which I truly love," Lester said. "I had an amazing time during my years here, and it's where I grew up in many ways. My time at Pittsburg State shaped me into the man I am today. It's an amazing feeling to be able to come back and be a part of not just Pittsburg, but also this exciting Block22 project."
According to its website, Brick + Mortar "incorporates the elements of a classic neighborhood bar in a chic, luxurious way, while serving up a mouth-watering menu of Modern American fare that surprises the senses by adding a twist to the simplest dishes with unique, artistic presentation." 
The diverse menu at its Santa Monica location features a variety of salads, pizzas, and main dishes such as fish tacos, fried chicken, and what Lester describes as "the best burger you've ever had."
"We place a very high value on the quality of our food," Lester said. "You can be fun and hip and play cool music, but if your food isn't top notch, people won't come. You look on our menu and see that we only have one burger, but it will be the best burger you've ever had. You can come into Brick + Mortar and grab a nice drink, listen to some music, but it's our food that sets us apart."
Brick + Mortar has received high praise from a number of national publications. The Huffington Post said in a review of Brick + Mortar that "every bite is a masterpiece."
"Brick + Mortar is the rare place that's ideal for brunch, lunch or dinner," according to the Huffington Post. "It would be a great joint just for drinks, but the food is too good to resist. Better bring your appetite." 
Brick + Mortar will be located inside the Commerce Building on the west side of Broadway. It will occupy the space formerly held by Crowell's Pharmacy.
CALI BURRITO
Asked to name a restaurant they'd like to see in Pittsburg, PSU students often mention Chipotle.
"Well, Cali Burrito is like a cooler, better version of Chipotle," Safier said.
Safier and Lester, owners of BRG, are not stopping with Brick + Mortar. They're also using their entry into Pittsburg to debut a Mexican food concept that has been in the works.
"We've been working on Cali Burrito for a while, but we just couldn't decide where it would be best to launch it," Safier said. "When we decided to bring Brick + Mortar to Pittsburg, we just started feeling like this would also be the perfect spot to launch Cali Burrito. We love Pittsburg, we love the vibe, the college town feel, and we're very excited to bring a second concept to Block22." 
Safier said Cali Burrito will be a quick-service restaurant featuring fresh ingredients and "a cool, modern vibe." 
"Cali Burrito will be a place where you can pop in, grab some delicious tacos or burritos to go, and go about your day," he said. "There will be some seating for those who want to hang out and eat, but we do understand that not everyone has that kind of time every day. While there is nothing 'fast food' about Cali Burrito, you can expect to get delicious, high-quality food in a short amount of time."
Cali Burrito will be located in the Baxter Building, west of Broadway between Brick + Mortar and the Colonial Fox Theater.
ROOT COFFEEHOUSE & CREPERIE
Since opening in the fall of 2015 at 802 N. Broadway, Root Coffeehouse has become a staple in Downtown Pittsburg.
It has become so popular, in fact, that owners Lindsey and Trent Kling and Taylor Whiteley, all PSU alumni, began talking about finding a bigger space. So when the opportunity to move into Block22 came up, they jumped at the chance.
"I think it's going to be amazing," Lindsey Kling said. "Not only is it exciting to be part of such a transformational project like Block22, it will also be so nice to have so much more space. When we opened three years ago, we just weren't sure how it would go. You never know until you're there and in it. The response from the community has been incredible, and needing more space is a very good problem to have."
Kling said the name changed to Root Coffeehouse & Creperie to better reflect the variety of drink and food options available.
"I think everyone understands what to expect from every coffee shop: coffee, tea, maybe some pastries," she said. "Our menu has expanded to feature a variety of different items, and our crepes are something we're very excited about and proud of. With more space inside Block22, we expect our menu to continue to grow and change."
Root Coffeehouse & Creperie will be located on the ground floor of the Opera House Hotel building, right next door to Harry's Café on the east side of Broadway.
More info about Root here: https://squareup.com/store/root-coffeehouse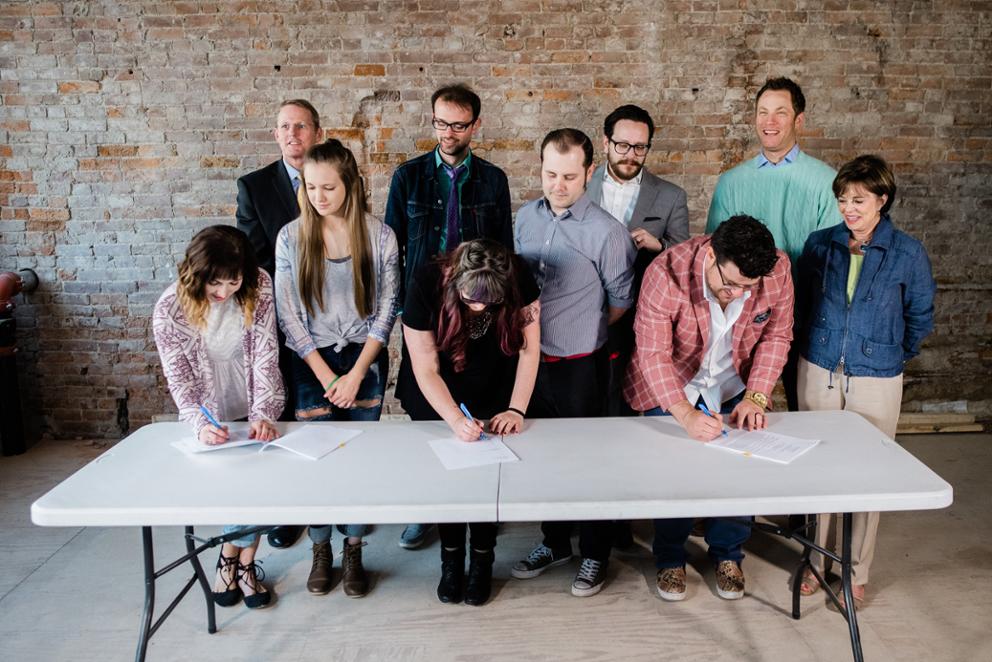 Owners of Root Coffeehouse & Creperie, TOAST, and Brick+Mortar gather with city and PSU officials to sign their Block22 contracts, becoming the first restaurants to open in this historic, innovative project.